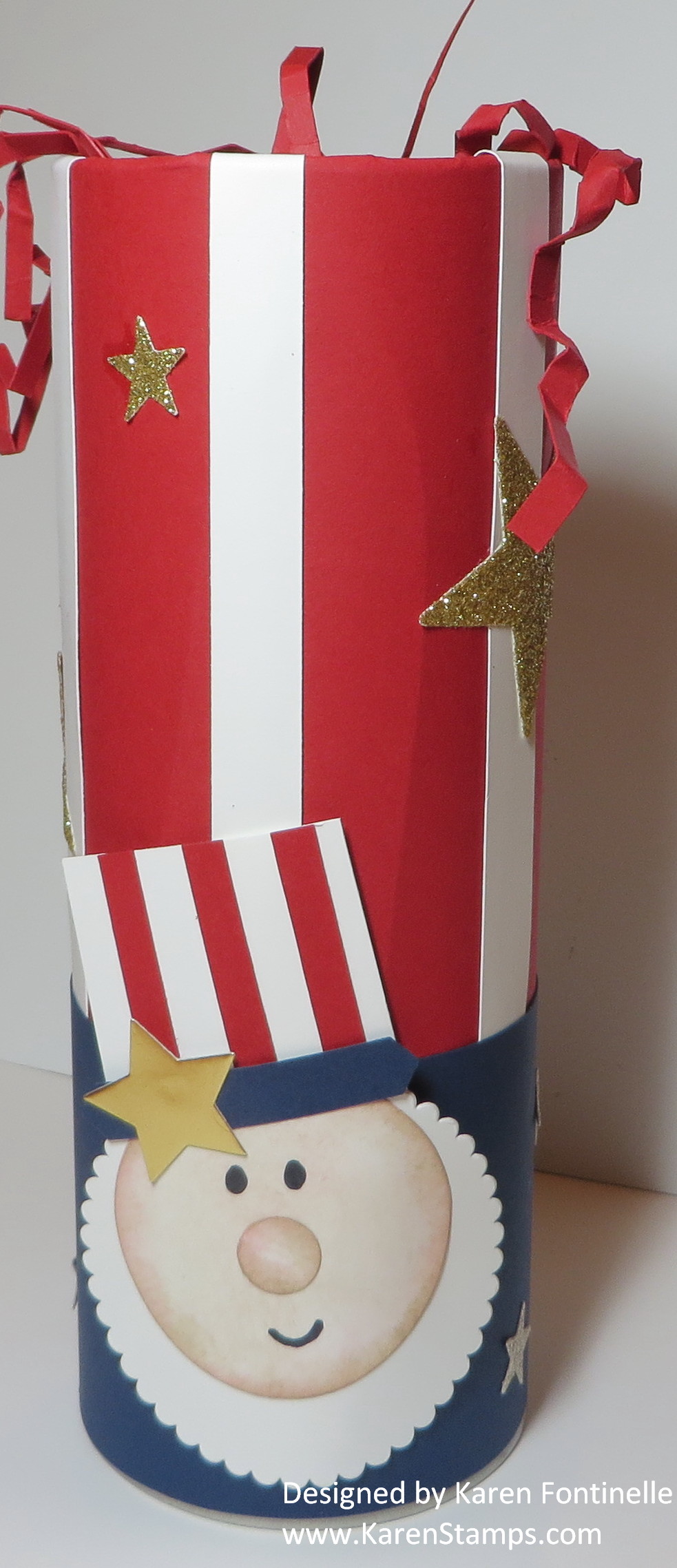 If you are going to a 4th of July party or picnic and want to take a little something, or if you just want an easy decoration for your house for the 4th, try making this Uncle Sam 4th of July Patriotic Favor.
This favor/home decoration came about when my husband asked me if I could use this tin for anything. I think he got it for Christmas with some kind of treats inside. At first I said no because my daughter would make me throw it away on her next visit after helping me organize most of my craft stuff back in February. But in the next second I thought, maybe I can make something out of that for the 4th of July!  Yes, a crafter's mind always at work when there is something ready to go in the trash!
I simply took a piece of Real Red cardstock and wrapped it around the tin after adhering some white strips of Whisper White cardstock cut about 1/2″ wide. Then I wrapped around about a 3″ wide strip of Night of Navy blue cardstock around the bottom.
For the Uncle Sam, I die cut a scalloped circle and a smaller regular circle with the Layering Circle Framelits Dies for his face and his beard.  You can choose whichever sizes you like for your project. To make his face, I also punched a 1/2″ Circle for his nose, and then sponged some Blushing Bride ink on his face and nose and added a bit of Crumb Cake ink as well. Just use a marker to make the eyes and mouth.
Uncle Sam's hat is just a scrap piece of Whisper White and a few strips of Real Red with a brim punched from the Classic Label Punch out of Night of Navy cardstock.
And then I found several different stars already punched in my box of scraps so I used those around the tin.  Just use what you have to decorate your creation!
Put some cookies or treats inside a cello bag and drop inside the decorated tin along with some red shredded paper or just use as a piece of 4th of July home decor!   I have a few 4th of July decorations!  You knew I would, right?!
It's fun to have a few decorations around even for holidays like the 4th of July or to take as a little gift to the hostess of the pool party, picnic, or family gathering.  See if you can make an Uncle Sam 4th of July Patriotic Favor out of something you already have….a paper towel roll, a tin, a Pringles can, some other kind of can, whatever you have!  It's fun!