Thirty two years ago today (I have to do the math, I can't believe it has been that long!) I awoke to an 8 am call from an out-of-town well-wisher on my wedding day and the phone never stopped ringing all day!  Friends called from as far away as Hawaii who couldn't come for the wedding, my bridesmaids and other girlfriends called to see how things were going, it's a given I talked to both of my grandmothers, and even the groom called (although things were a bit quieter at his house).  It was about 100 degrees outside and the air conditioner wasn't working very well, so my dad would have to go down in the basement and pound on something every little while to make it cool better.  The best man (who was moving) brought his dog over to stay in the yard next door, but while we were all trying to get dressed, the dog got loose and my dad had to go out and find him, making my mother frantic that he was going to have a heart attack in the heat, but fortunately the dog really was still in the side yard.  The limo came and we really did all make it to the church on time!  My dad asked me teasingly before he walked me down the aisle if I was sure and I happily said I was indeed SURE!  I think you have to be "sure" if you want to stay married this long!
So after all that reminiscing, here is the anniversary card I made for my husband….who will look at it, put it down, and then I will confiscate it for my samples!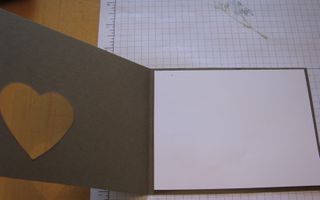 Another Movers and Shapers card with the new Soft Suede.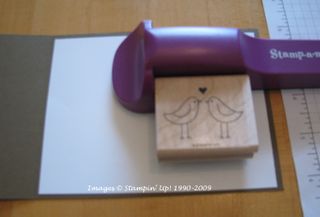 Using the Stamp a Ma Jig to get the birds centered inside the cut out heart (or you can eyeball it through the heart).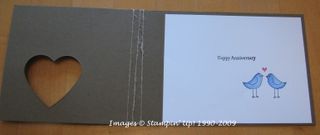 A little "Happy Anniversary" from the new "Teeny Tiny Wishes".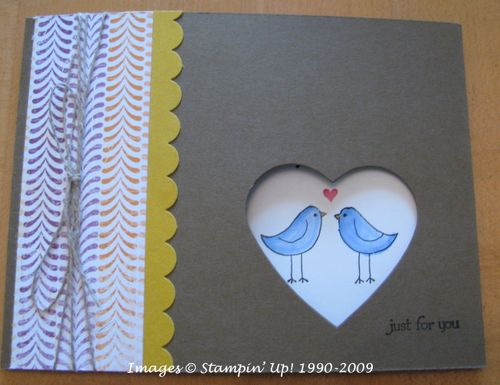 And another anniversary today is the launch of Apollo 11 forty years ago, the first manned mission to land on the moon.  I was quite interested in the space program, having grown up with it, and remember getting up very early in order to watch this launch from the very beginning because I knew it was historic.  I even used a reel-to-reel tape recorder to record the audio from the TV to save "for posterity"!  Who knew forty years later the tape recorder wouldn't work anymore and that style wouldn't even exist!  And I sure didn't know that in another eight years I would be getting married!