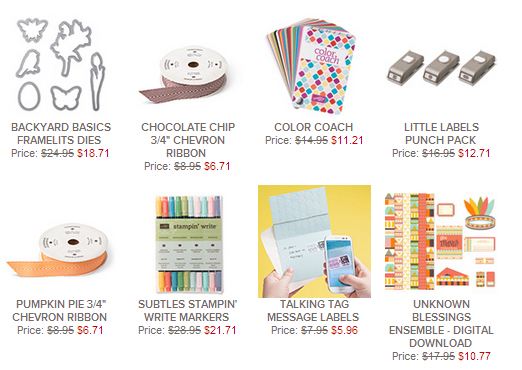 It's Tuesday so here are the new Weekly Deals from Stampin' Up! Take advantage of the sale on these items to save yourself a little money to spend on more stamping supplies! If you are a ribbon freak, the Chevron ribbons are lovely.
But don't order anything today!!  The Stampin' Up! Online Holiday Sale (formerly known as the Online Extravaganza) will begin tomorrow, November 20 and run through December 2. It will start with a 24-hour Doorbuster Sale so be sure to check it out TOMORROW!
Today is the last day for the Tag It Bundles:  Holiday Tag It Decorative Box Bundle and the Holiday Tag It Extra-Large Box Bundle.
And keep in mind the gorgeous Festive Flurry Ornament Kit!  You've GOT to have one of these kits for your holiday packaging or for hanging on your Christmas tree or other home decor.  All you need is a hot glue gun!
Visit my Stampin' Up! Online Store for all these wonderful Stampin' Up! products!
PS:  If you're not on my Mailing List, subscribe NOW in order to receive my special 12 Weeks of Christmas email with a new holiday project idea coming out every Wednesday.  Tomorrow we will be on Week 8! I can't believe it!!