Last week I got a surprise when my brother flew to Houston to pick up a plane to fly back to Wichita (he's a pilot).  He was supposed to fly it back the same day, but driving from one airport to the other on opposite ends of town and getting stuck in traffic made it rather late, plus Wichita was expecting freezing rain. Therefore, I got the benefit of a longer visit with him.  When he called his wife to say he'd be staying overnight, she told him he had to make her a card while he was here!  She loves stamping and scrapbooking!
So after dinner and visiting awhile, we made a card!  He did a great job and even got a little artistic I think!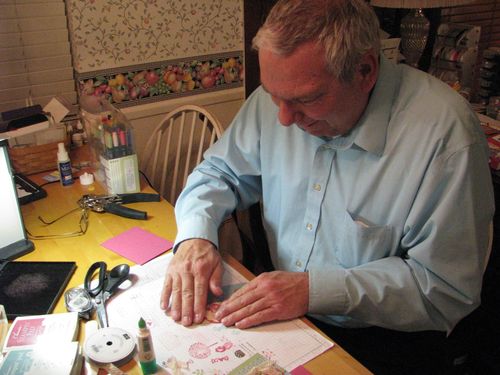 When I handed him a pen to sign the inside of the card, he wasn't finished stamping!  He learned to color part of a stamp with a marker to stamp just the greeting that he wanted!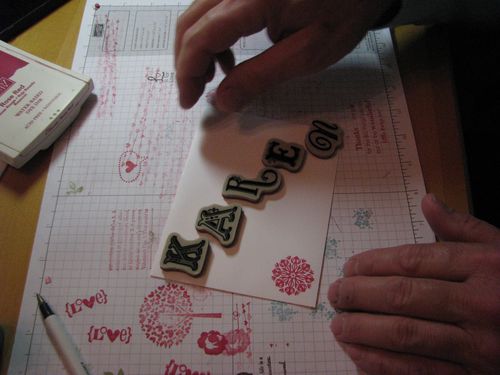 And he still wasn't finished!  Why just write the person's name on the envelope when you could stamp it?! (yes, his wife's name is Karen also!) Here he is planning it out!
So if you ever thought YOU would never be able to make beautiful cards and scrapbook pages and learn card making techniques, just think of my brother making a beautiful card…and envelope!!…for his wife with no training!  Of course he could take an airplane apart and put it back together…or a car…or a kitchen….so putting a little ink on a stamp and pressing it on paper probably isn't that hard!
If you and your friends want to learn to stamp, contact me for a workshop or lesson!  Anyone can do it….the first time!