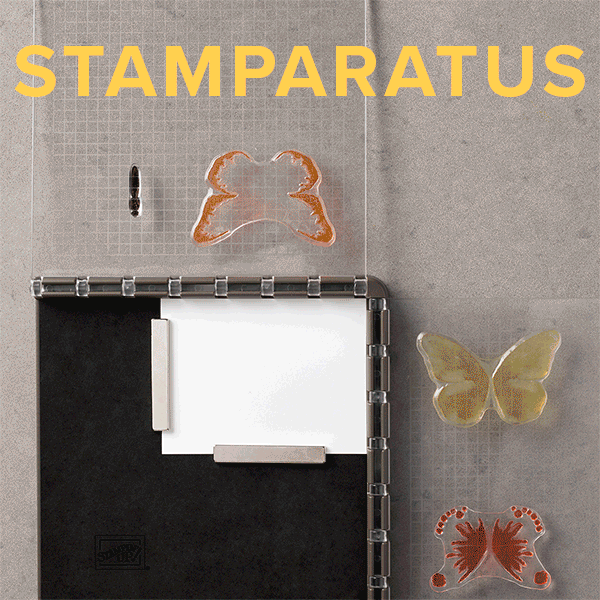 Today, November 16, is the first day that we can all "reserve" the new Stamparatus, the Stampin' Up! stamp positioning tool!  Beginning this afternoon, the first "window" to "preorder" your Stamparatus, will open at 2:00 pm MT.
1:00 PM Pacific Time
2:00 PM Mountain Time
3:00 PM Central Time
4:00 PM Eastern Time
Here's how to reserve your Stamparatus!  You know you want one!
Go to my Online Store as if you were placing an order.  You must have an account, which you do if you have ordered online from me before. Make sure you see my name and information on the top right corner of the Account page. If you don't have an account, just look on the left side, under the Stampin' Up! logo and click "Create Account".
You will surely see some big banner about the Stamparatus!  It is not there now as I write this. Click that and it will take you to a reservation page. Or here is the link to the Reservation Page (which is not "live" yet).
Fill out the form with your name and credit card number.  Your credit card will not be charged today! It is just a "reservation".
In early February, you will receive an email from Stampin' Up! saying the Stamparatus is in your Shopping Cart!  Be sure not to accidentally delete it or it will be gone!
Now you can add other products to your order like usual, at any time, or simply order the Stamparatus.  Remember, in February it will be Sale-A-Bration (spend $50, get a Sale-A-Bration product FREE!) so it will almost be like getting a bonus for ordering the Stamparatus! The cost of the Stamparatus is $49.
If you miss the November 16 -30 window, there will be two more "windows" during which you can reserve the Stamparatus.  This November window will have expected delivery of the Stamparatus around February 1st. Reservations will be taken in each window only as long as supplies last. If you think you are interested, I would go ahead and try to do this November window.  You can always delete your reservation.
Here's how to reserve your Stamparatus!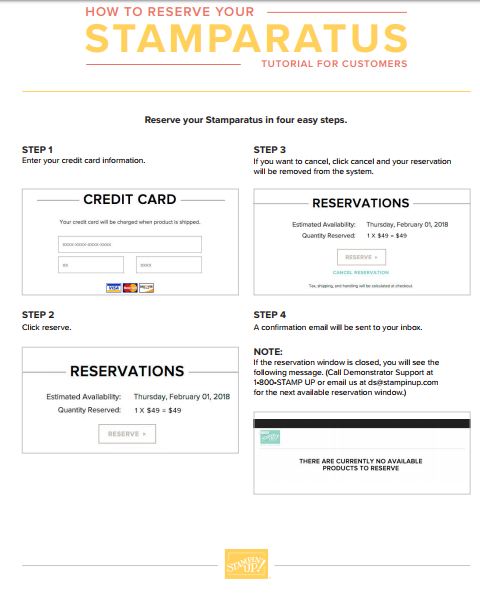 And if you missed the video from Stampin' Up!, here is Carrie explaining all about it!

I know this is a busy time for everyone, including me, but if you are excited about the Stamparatus, I would try to put in your reservation TODAY or very soon.  That way it will be done before Thanksgiving and hopefully they will not fill all the spaces!  I would guess the website will be VERY busy right at the time it opens so just be patient. We often crash the website when something big is happening!!
If you have any questions, please let me know!  Remember, this is just reserving the tool so you can get your hands on one around February 1st when Stampin' Up! gets them in stock!  I'm sure there will be heavy demand.  Eventually it will be available in the new 2018-19 Annual Catalog and ordering will be as usual.  This method is just to get it available to us as soon as possible!