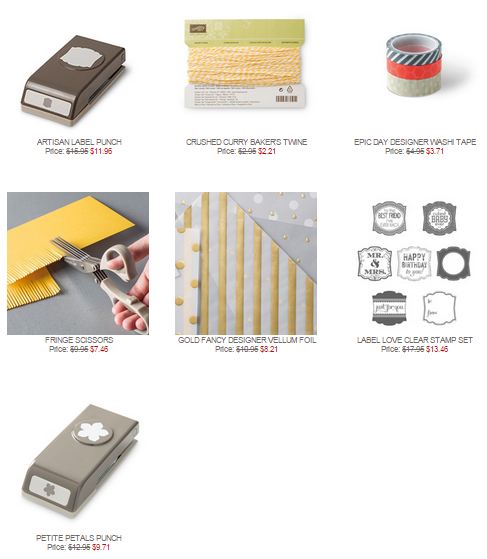 Here are the current Weekly Deals from Stampin' Up! for Tuesday March 24 through Monday March 30.
Also, last week when I was on vacation, there was an announcement about My Digital Studio (MDS). This program has been evaluated by Stampin' Up! and determined that this product has not been as successful as Stampin' Up! had hoped.  Therefore, it will no longer be offered after May 31, 2015. If you own MDS you can certainly still continue to use it and have your products printed anywhere other than the SU printer. Stampin' Up! will no longer offer support, although if you ask your demonstrator about any questions or problems, we may be able to find out the answer for you within our demonstrator community. Be sure you have downloaded all the downloads you have purchased (I need to do this!) before May 31 and it is suggested you have everything backed up because you will not be able to go back to Stampin' Up! to download again. You can use the SU Printer up until May 31 (I need to do this too!). I hate to see MDS go, as do a lot of demonstrators and customers, but I didn't use it as much as I intended to and maybe that was true with a lot of people.
However, for your memory-keeping, we do have Project Life by Stampin' Up! created by Becky Higgins that is very easy to use! Stampin' Up! continues to bring us exciting new products so while I am sad to see MDS go, change is a part of life and stamping! Just be sure you purchase any downloads (or the software) before May 31 and if you have any projects you have made but not printed, have them printed by the SU printer before May 31. You can always print things yourself or have them printed at other local businesses.
Remember, Sale-A-Bration comes to an end March 31, a week from today!
Oh No!!!