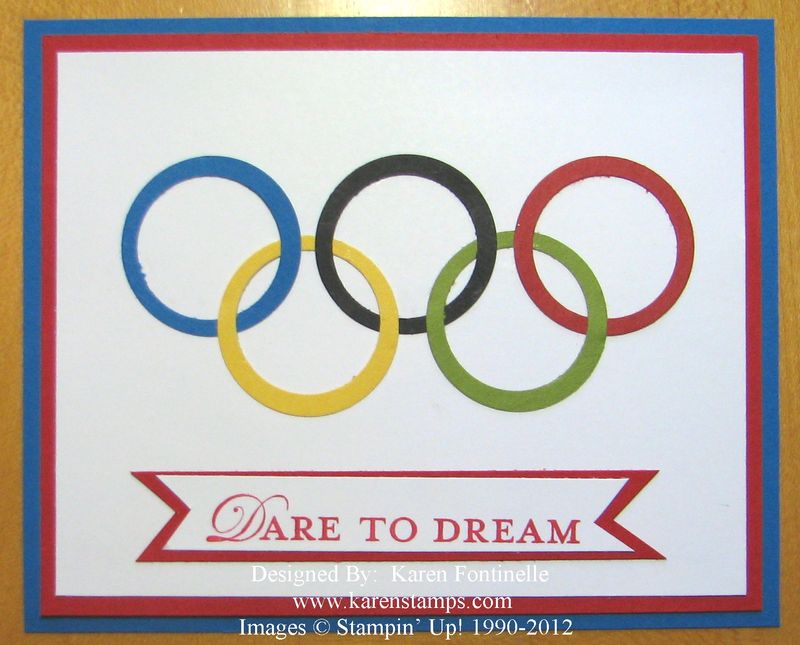 The Olympics begin with the Opening Ceremony tonight! The city of London is hosting the 2012 Olympic games and they are finally going to get started! It seems like we have been looking forward to the Olympics for a long time and now it is finally here!
Here is the story behind the colored Olympic rings from the Olympic Museum Manual:
 "Pierre de Coubertin first proposed this symbol at the 1914 Olympic congress in Paris.
 The five rings on a white background form the Olympic flag, which was unveiled during the same congress. The flag flew for the first time in an Olympic stadium in 1920 during the Antwerp Games.
If the number of rings represents the continents, the colours (six of them, counting the white background) were chosen to ensure that every country would have at least one of the colours in its national flag included."
"The five rings that make up the Olympic symbol represent the union of the five continents and the meeting of athletes from all over the world during the Games. They symbolise the universality of the Olympic Movement."
To make this card:
Stamps:  Loving Thoughts Stamp Set
Ink:  Real Red Classic Ink
Paper:  Pacific Point, Real Red, Whisper White, Basic Black, Old Olive, Daffodil Delight
Accessories: 1" Circle Punch, 1 1/4" Circle Punch
Note:  Punch the 1" circle first, the turn your 1 1/4" punch upside down, reinserting the punched piece so you can see the sides.  Once you have it lined up correctly, punch out the ring.  This is easier than punching the larger circle first and then trying to center the 1" circle.
Enjoy the games!