When you are a child, you never really think you are going to be old enough to say "Forty years ago…"….. but here I am!  Forty years ago today my whole family watched the first man, Neil Armstrong, walk on the moon, at my grandmother's apartment, probably celebrating my dad's birthday.  I remember having a fit that I had to leave the TV at my house, afraid I would miss something significant, while we drove the fifteen minutes or so over to my grandmother's…..and again when it was time to go back home.  I remember my parents being just amazed, repeating over and over again how this accomplishment was only considered science fiction to them in their lifetime, and now it was really happening right before their eyes….men landing on the moon…and this was something my brother and I would be reading about in the history books!  Even now I think it is pretty amazing that we would have pictures of the moon landing and the men walking on the moon live that many years ago.  My parents wondered what accomplishments like this my brother and I would see in our lifetime.
Since Stampin' Up! doesn't have a stamp of a lunar module or an astronaut I had to be a little creative with this card!  But just a circle punch and some sponging made do for the moon (plus a little touch of "Itty Bitty Backgrounds" for those craters!) and the earth and a retired wheel created the stars in outer space! (I really think you cannot do without some stars in your stamping collection.  They are so versatile!)  Of course the rocket is from the great set "Pun Fun", not exactly Apollo 11 but it will do!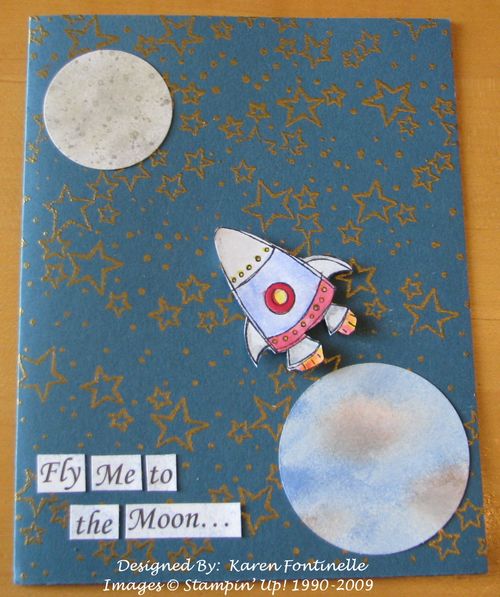 Little did I know then that forty years later I would be living in Houston, TX where we have visited the Johnson Space Center many times over the years and always find it fascinating.  There we can see the actual moon rocks and how they are stored very carefully and precisely that we watched on TV as the astronauts picked up on their missions to bring back to earth.
It's been interesting to hear the local media coverage of this anniversary here in Houston.  The great Astrodome, opened in 1965, had groundskeepers called "Earthmen" dressed in faux-spacesuits and the ushers were called "Spacettes".  The baseball team was renamed "Astros".  And of course the first word spoken from the moon was, "Houston, Tranquility Base here."