If you need a quick and easy fall treat bag for some candy or a gift, making this little bag out of some pretty designer paper or cardstock is about as easy as it gets!  It uses half a sheet of 12″ x 12″ paper and then is scored and cut, folded and glued.  Leave it open at the top or tie shut with a ribbon or something else and you've got a cute little treat bag. Make it for any occasion by changing the paper and the greeting or decoration.
Start with a 12″ x 6″ piece of designer paper or cardstock to make this bag. I used a piece of the beautiful Painted Autumn Designer Series Paper  (I love this paper!!). Place the paper lengthwise in the Stampin'  Trimmer or Simply Scored board.  Score at 2″.  This will make the bottom of the bag. Next turn the paper the other way to score four times:  at 1″, 3 3/4″, 6 1/2″ and 9 1/4″. Fold and crease all the score lines with the Bone Folder. It really helps to get a good crease.
Now starting at what will be the bottom flaps of the box, the 2″ scored section, cut those four score lines up to the original 2″ score line. So you will have one little section that is 1″ wide and the rest are 2 3/4″ wide. Cut off the little 1″ section. This diagram isn't drawn to scale but it gives you the idea! (And I learned a new skill!)  Cut out the light blue portion and cut up on the short score lines at the bottom to the horizontal score line to make the bottom flaps.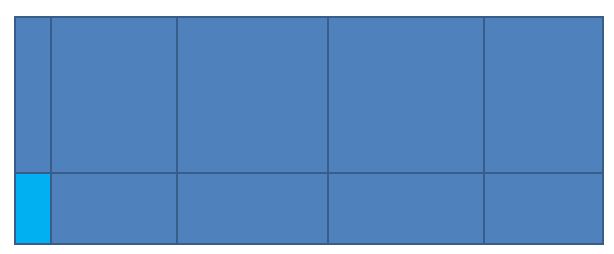 Put adhesive, something strong like Fast Fuse, Multipurpose Liquid Glue or Tear & Tape on that remaining 1″ strip. If you have the paper flat on the table, you can just fold over the opposite end and adhere it to that 1″ portion. Do this instead of fumbling with it in a box shape in your hands.
Punch two holes in the top, if you like and tie with a ribbon.  I used the Lemon Lime Twist 1/4″ Ombre Ribbon.  The greeting is stamped from the Labels to Love Stamp Set, stamped on Whisper White in Lemon Lime Twist Ink. Then it is punched out with the 1 3/8″ Circle Punch. The background is a piece of Lemon Lime Twist Cardstock punched with the Pretty Label Punch. I adhered the greeting on to this label, popped it up on Stampin' Dimensionals on to the bag, and added some Gold Faceted Gems for some bling!
This is a very quick and easy treat bag you can make for fall or Thanksgiving or any occasion for a small gift or a candy treat!  Leave it open or close it up.  It will only take you a few minutes to make and the recipient will think it is fantastic!  If you think your friends would be interested in this blog post, you can share by clicking the buttons below!