Aren't these the cutest guys for Thanksgiving?!  The idea was in our Stampin' Up! demonstrator magazine (I've mentioned before how we all can't WAIT to get it in the mail every month!), Stampin' Success, last October.  I added the Hershey's Nugget candy wrapped in our Autumn Traditions Designer Series Paper.  First I thought I would put the turkey feathers at the back of the nugget but I like them right behind the turkey.  Then the nugget makes a good stand for the turkey and would great at each place setting of your Thanksgiving table!  See directions below.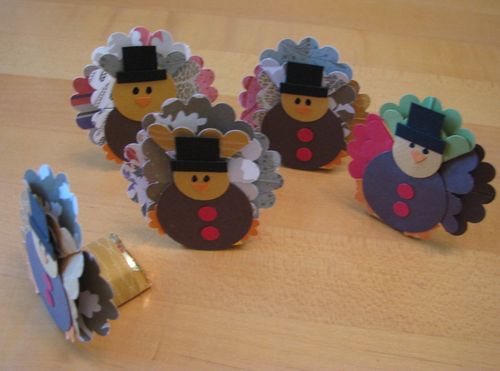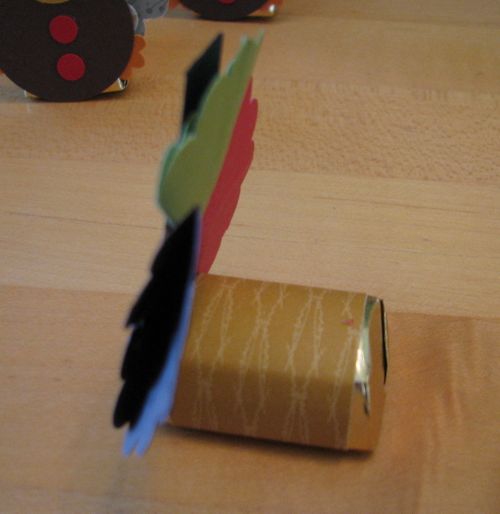 Here are the easy directions for the turkey feathers.  You can use either Designer Series Paper (DSP) or card stock.  The DSP is easier to fold since it is thinner.
Punch three scallop circles with the Scallop Circle Punch.

On each scallop circle, count five scallops and fold that area down. (Count 5 scallops, draw a real or imaginary line from the edge of scallop 1 to the edge of scallop 5 and fold down on that line.)

Now fold the scallop in half to form a crease in the middle for reference, then unfold.

Fold the flat edge of the scallop circle down from each side so the folded edges line up with the middle crease on the scallop circle. (You're bringing the flat ends up to the center fold line to get the shape you see on the turkey below.)
To complete the turkey, you'll need some punches.
1 3/8" circle for the body
3/4" circle for the head
Two 1/4" circles for the buttons (punch is retired)
Boho Blossoms Punch for the feet, cutting off one petal from one of the flowers for his little beak!
Color in two black dots for the eyes.
Cut a 3/4" square for the hat.  Trim off a little strip for the hat brim.  Perhaps trim a bit more to make the hat the right size.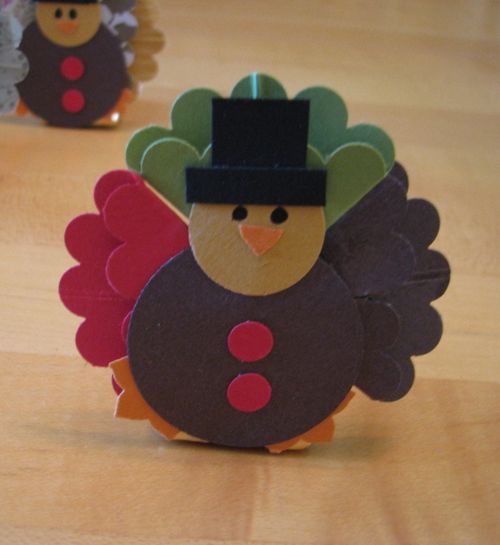 It's really very easy and you can put your own custom touch to the project.  Or just make the turkey without the nugget and adhere him to the front of a Thanksgiving card or bag!
Happy Thanksgiving!!