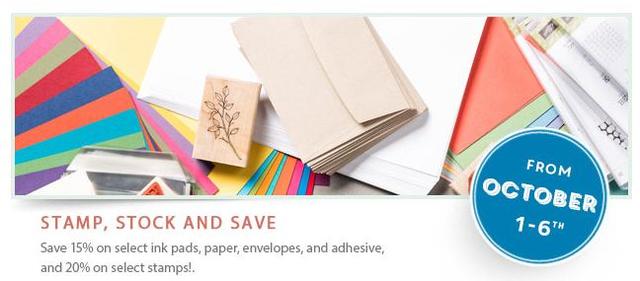 Today and this weekend it's time to take inventory of your stamping card stock and ink! See what you are low on or want to stock up on because Stampin' Up! has a sale – but only until Monday, Oct. 6! Be sure to take a look at the Stamp, Stock & Save Sale going on now for just a few days! Save 15% on individual ink pads, assorted card stock families and Whisper White, Medium envelopes, and Fast Fuse Adhesive.  Save 20% on a few great stamp sets!
Really!! Go through your card stock and see what you don't have.  If you don't have all the colors, the assortment packs on sale might be perfect for you. Each color family has two sheets of each color. Individual colors are not on sale.  Go through your ink pads! Do you have all the colors?  Do you have all the colors in the new foam pads?  I was surprised to discover that I was missing more than I thought!  Envelopes!!!  Stampin' Up! has the nicest envelopes ever!  Be sure to get some Medium Whisper White Envelopes for sure!  They just have an elegant feel.  Once you use Stampin' Up! envelopes, there's no going back!  With Christmas coming up, be sure to get envelopes! And if you haven't already tried out the new Fast Fuse Adhesive, this is your chance at a 15% discount! Check out the select stamp sets on sale, too!
Click on the flyer below:
Go through your supplies today and place your order during the Stampin' Up! Stamp, Stock & Save Promotion!  It's only through Monday, October 6, 2014 so don't miss it!!
Shop at my Stampin' Up! Online Store any time!