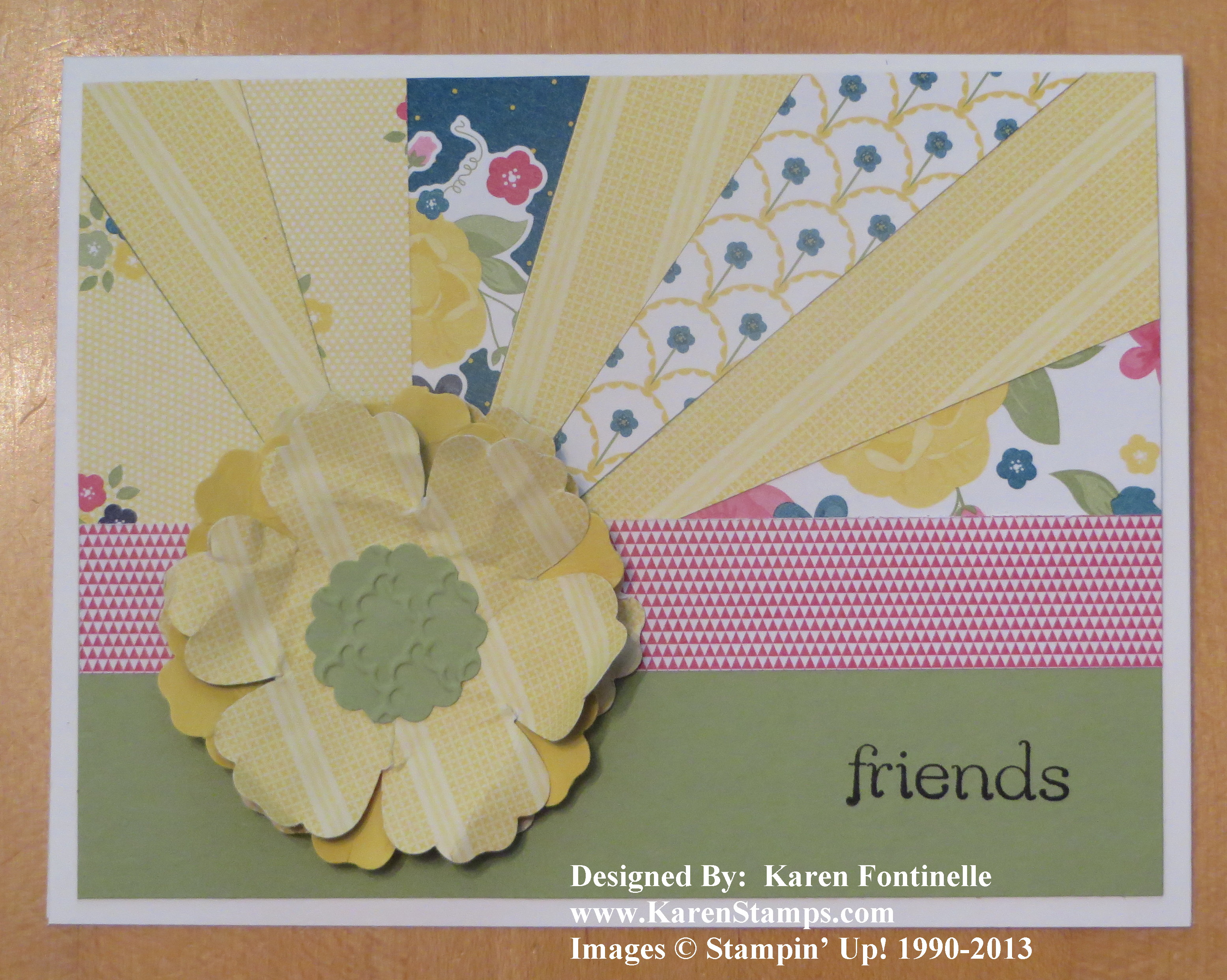 On the one hand, I can't believe it is officially summer already; on the other hand, here in Houston it has been summer for weeks! Heat and humidity, the standard summer weather forecast:  95 for a high, 75 for a low and 10% chance of rain!  So in honor of summer, I decided to try my hand at what I guess most people would call a "sunburst" card.  It's a great way to use scraps of paper, and I've seen so many variations of this idea that you can do almost anything with it.  There is no right and wrong.
Since it is officially summer, I wanted my sunburst to be mostly yellow. I used the Gingham Garden Designer Series Paper to cut angled strips.  You can do this lots of different ways I'm sure and make lots of different sizes.  It probably doesn't matter at all what you do,  I started with strips of the Gingham Garden paper about 4 1/2″ x 1 1/2″ and used my Stampin' Trimmer to cut from one corner to the other diagonal corner.  Basically you want one straight edge and one angled side. Then just lay them out in the design you want, with the excess hanging off the card layer.  Be sure not to put adhesive ALL over the back of the strip because part will be trimmed off the card later. You can just lay out the strips in one area of the card or all over the top half as I did or over the whole card, whatever you like. Trim off the excess paper hanging off the edge of the card with your Paper Snips and you can also trim the place where all the points meet if you need to.  I placed a strip of designer paper across the middle of the card to cover that area but just the punched flower would have done so as well.  The flower is punched with the Blossom Punch – one piece of Delightful Daffodil card stock and two pieces of Gingham Garden paper. The center is a piece of Pear Pizzazz that was in my scraps already embossed! I just punched it out with the 7/8″ Scallop Circle Punch.
This was a fun and easy card to make and I'm anxious to try some other versions! Dig out some of your scrap paper and try it!