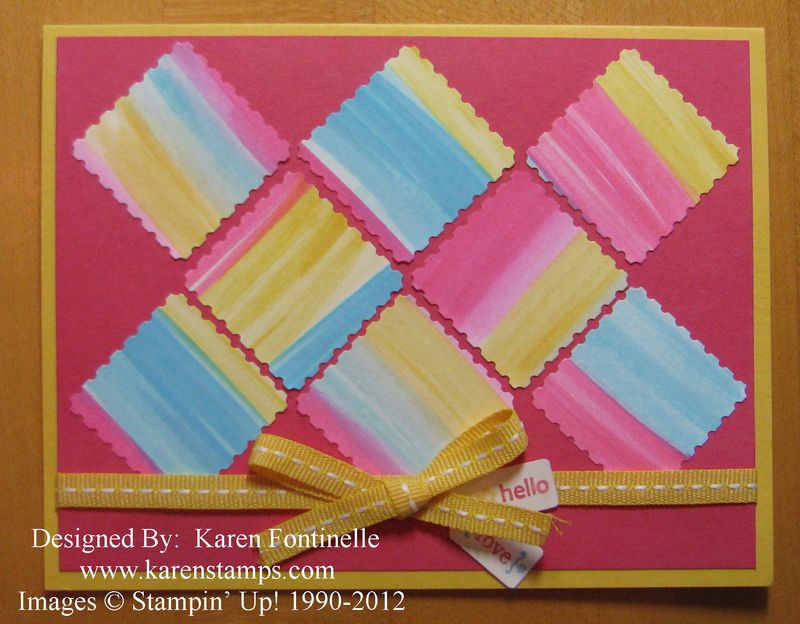 Funny how this Postage Stamp Punch card started out as something completely different! So sometimes even when you know exactly what you are making, you end up with a surprise!
I had the idea from a magazine to use my reinkers and Aqua Painter to make some paint-like stripes on a piece of Whisper White card stock. Well, the first try didn't thrill me so I covered another piece of card stock with alternating stripes of Daffodil Delight, Melon Mambo and Tempting Turquoise. Hmmm….didn't really know what to do with that either….but somehow I got the idea to punch out some shapes.  The Postage Stamp Punch was chosen and after some fiddling around, I came up with this!
That yellow ribbon is the brand new Daffodil Delight 1/4" Stitched Grosgrain Ribbon #126872 with a couple Tiny Tags stamped and then punched with the Jewelry Tag Punch. I think they kind of make the card! And I like the summery look to the card!
This was one of those projects where I had to tell myself "Walk away from the card!"  Sometimes you have to know when to stop!  I can still look at it today and wonder if I should have put something in the centers of all the squares or partial squares in the empty spaces…or something! But sometimes you have to just stop!
For Stampin' Up! paper, ink and accessories, shop at my Online Store!  
***Don't forget about the Reason To Smile stamp set for $5 with a $50 order!!***