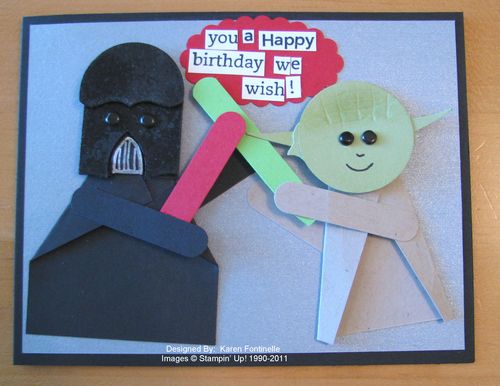 Here is a Star Wars punch art birthday card with Darth Vader and Yoda I made for my favorite son-in-law.  Yes, he's my favorite….well, he's my only son-in-law, but he's still my favorite!  :) Apparently I hit a home run with it because my daughter says he really liked it!  He's a big Star Wars and all-kinds-of-other-stuff fan so I thought this idea would be perfect.  
Of course, it is not my original idea because I can't come up with creative things like this!  Fortunately, other demonstrators can and they share and it is okay to copy ideas!  I found this idea in our Stampin' Up! demonstrator website called "Stampin' Connection". (So if you want to be a Stampin' Up! demonstrator but feel you are not creative, this is one of many resources provided by Stampin' Up!)  A demonstrator from Canada, Rose Marie Coleman, had made these Star Wars punch art figures and I was able to figure out what she did! I'll add her blog link at the end.  
I have to tell you about my greeting on the front!  I didn't have much space left for one and I got the idea to have it be something Yoda would say. Would you believe there is a website that will translate anything you write into "Yoda-speak"?!  http://www.yodaspeak.co.uk/  Just type in what you want to say, and it will translate it for you!  Try several versions until you get something interesting!
Then I used several different stamps from On Your Birthday #111664, cut the words apart after I stamped them on scrap paper, and pasted them in order to make my own greeting!
My card is made with a Basic Black card base with a Brushed Silver card stock layer on the front (which doesn't photograph very well!). Here is the inside: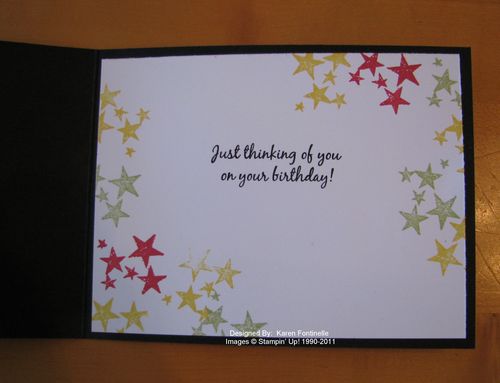 If you need to add to your collection of punches so you can make interesting characters like this at a moment's notice, just Shop Online at my Stampin' Up! website.
Here is a link to Rose's blog post about how she made these characters…because I already don't remember how I did it and someone is sure to ask!  http://www.stampingwithrose.com/2010/05/star-wars-card-instructions-and-winner.html