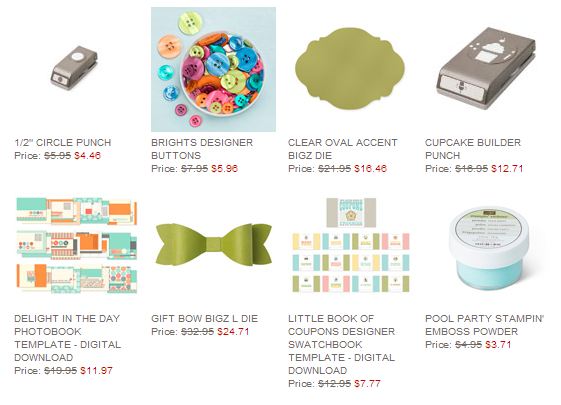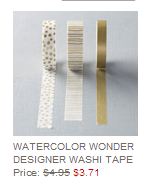 Here they are!  The new Stampin' Up! Weekly Deals for the week of July 29 – August 4. I think if I didn't already own these items, the things that would jump out the most for me would be the Cupcake Builder Punch and the Gift Bow Die, as well as the 1/2″ Circle Punch and for sure the Watercolor Wonder Designer Washi Tape! (Plus maybe the Pool Party Embossing Powder and oh, of course the Brights Designer Buttons!). Who can pass up a bargain?!
Be sure to click to page 2 if you are looking at the Weekly Deals in my store or you will miss the Washi Tape!

Even though the Cupcake Builder Punch has been around for awhile, I have been getting lots of use out of it with the new Cupcake Party stamp set. You might want to check out that stamp set, in either clear- or wood-mount. It's on page 58 in the new Stampin' Up! Catalog with lots of cute examples on the page.
If you don't own a Big Shot Die-Cutting Machine yet, just hang on a few more days until August! Then you might want to go ahead and order the Gift Bow Die and the Clear Oval Accent Bigz Die.
It's time to go shop at my Stampin' Up! Online Store! What Weekly Deals will you choose?