WOW!  Stampin' Up! really knows how to knock our socks off!  They have surprised us with a "Color Renovation" which is a new updated color palette comprised of 25 current colors, 10 returning In Colors, plus 5 new Core Colors!!!!  AND there will be 5 more new In Colors in July!  They have put two years of study and research into this using focus groups of demonstrators, Stampin' Up! artists, other color professionals, and sales data. Consideration and concern for every demonstrator and customer is behind all the decisions Stampin' Up! makes so you can be assured that a lot of thought and research went into this color change.  This Color Renovation will take effect July 1st with the new Idea book & Catalog.  Stampin' Up! Demonstrators will be able to get our hands on the new colors in June with preorders, so there's a tip……if you want to get in on this early, you should become a Demonstrator right now!!  It only takes minutes, so contact me if you are interested!
Here is a chart of the new color palette!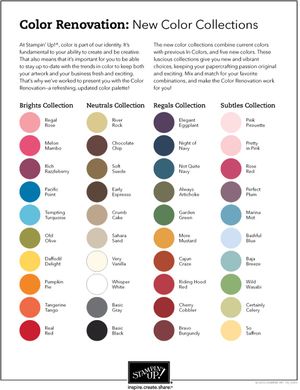 There will be lots more information coming out about these changes so stay tuned!
We'll all have LOTS to be excited about as these color changes will lead to new products as well!