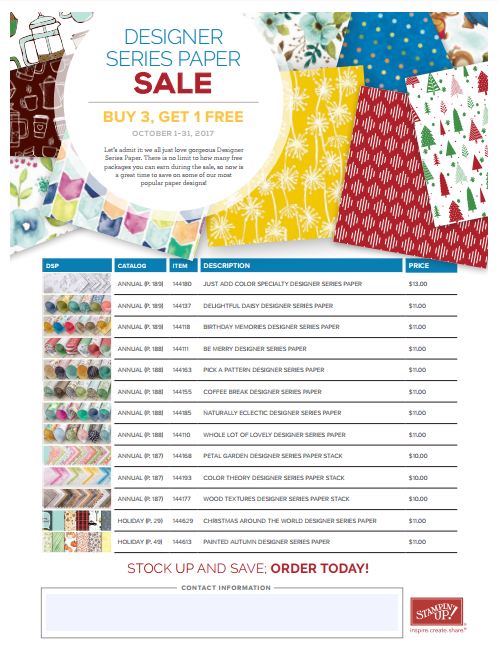 October is a great month at Stampin' Up! with some special sales going on!  If you love our designer series papers, guess what?  You get to look at the list of papers on sale and choose which three from the list you purchase and which one is free!  That means you can pay for three $10 paper stacks, and get a $13 Specialty paper for free if you like!  And you can order as many (and get as many free) as you would like!
The Details:
Sale period: October 1–31, 2017
All order types qualify for this promotion.
There is no limit to how many times participants can buy three packages of Designer Series Paper and get one free during this sale.
Participants can choose which three packages of Designer Series Paper they will order from the sale items and which package to receive for free.
Designer Series Paper purchased as part of a Starter Kit does not qualify for this sale.
Designer Series Paper ordered with Stampin' Rewards does not qualify for this sale.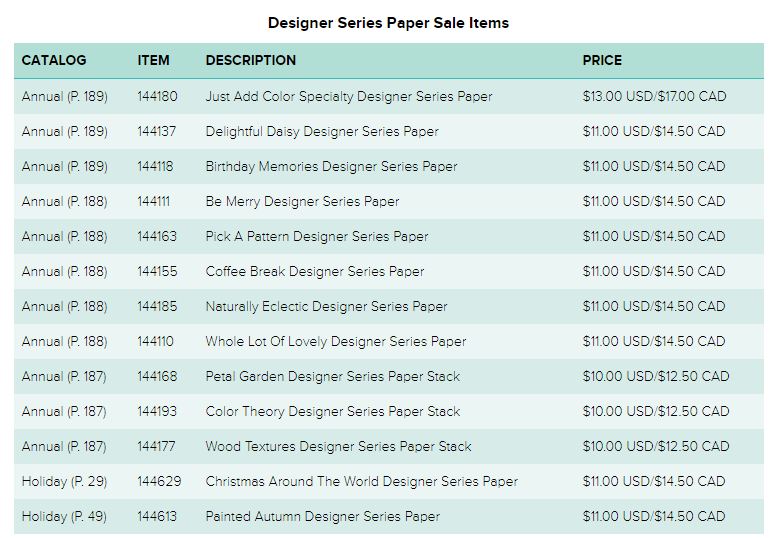 AND THAT'S NOT ALL!!
Only for ten days, October 1-10, you can choose these stamp sets and Note Cards for 15% off!
Also, purchase a Fast Fuse and receive two refills FREE!
Click on the images above for a more readable copy!
Check out these specials at my Stampin' Up! Online Store!  They all begin today, Sunday October 1, 2017.  The World Cardmaking Day specials are only good for ten days, Oct. 1-10.