The next day after the Stampin' Up! Leadership Conference ended, Stampin' Up! held a Regional Event for a day.  One of my favorite projects (and there were many!) was this Teabag and Cookie Holder demonstrated by Debi Pippin, a very talented Stampin' Up! Demonstrator. We could wander from one demonstrator booth to another watching a new project or idea and taking pictures of their samples on display.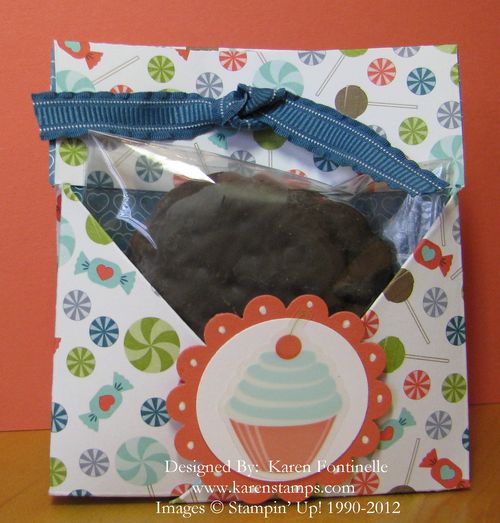 Don't you just love this project made with the cute Sweet Shop Specialty Designer Series Paper #125408 plus the Sweet Shop Designer Stickers #125584?!
By the way, the cookies I put in the holder are Girl Scout Thin Mints, in honor of the Girl Scout 100th Birthday today! The Girl Scouts were founded by Juliette Low in 1912.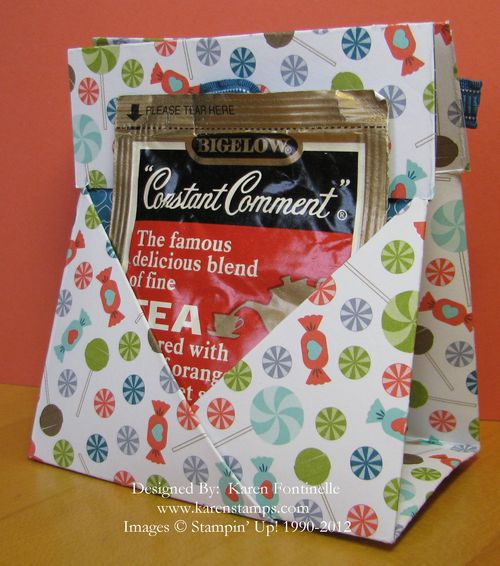 The way I saw it demonstrated, she put the bag of cookies in the middle area of the bag with a tea bag on each side in the pouches.  You could do it however you like….maybe a bag of candy in the center?!
I just thought it was the cutest idea with so many possibilites!  What a nice little gift for someone!