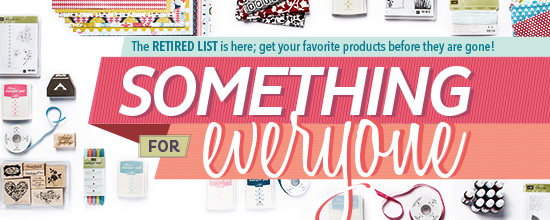 May has flown by so fast I can't believe we are nearly at the end.  This is the LAST week of May!!   And it's already Tuesday after the holiday weekend! If you haven't already, it's time to get serious about the Stampin' Up! retirement lists! Although the end of the month is May 31, you do have a little grace period with Stampin' Up! holding open the ordering from the outgoing catalog through June 3, 2013. But remember accessories are only available while supplies last!
Some accessories are even discounted so be sure to check these out! You can see the discounted products here in my Online Store. Some are already sold out.
Click on this link for the Stampin' Up!  List of Retiring Stamps
Click on this link for the Stampin' Up! List of Retiring Accessories
Also, remember the Stampin' Up! Spring Catalog will be ending on May 31.
Stampin' Up! announced this morning that Online Ordering (and ordering through demonstrators) will be down from midnight MDT on Friday, May 31 through noon May 31 MDT  (that will be 1:00 pm Central Daylight Time) so that they may switch their ordering systems over to the new catalog!!
Go to my Online Store  where you can see all the retiring stamps, paper, ink, accessories….everything….which ones are discounted, which ones are still available for purchase.