High school graduation, college graduation, even preschool graduation! You can use this same pocket card for any kind of graduation!  A pocket card will also work for any graduation invitation or graduation announcement.  Change the color combinations to suit the school or age.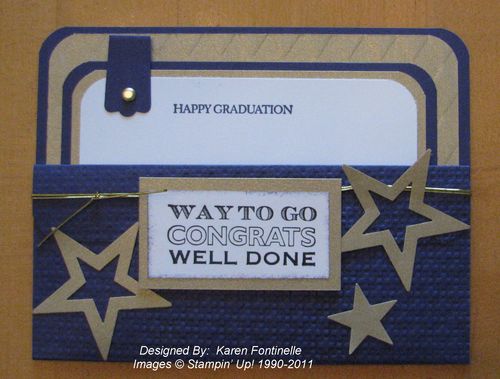 The insert in the pocket card can be any style.  It can contain just a stamped or written greeting or you can attach a gift card, cash, or check. Stampin' Up! has so many great stamps that work on a graduation card  so check those out!  Just look through the catalog and you'll find something appropriate for your card!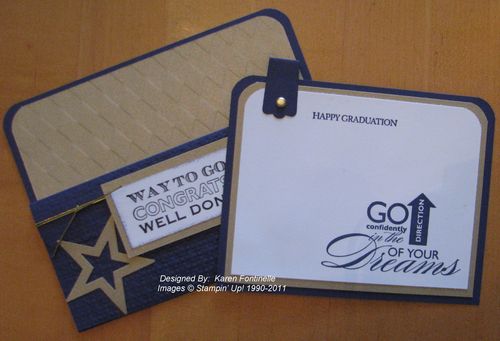 Supplies:
Stamps:  Happy Greetings (Summer Mini, p. 26), Teeny Tiny Wishes #115370, Word Play (IB&C p. 147)
Ink:  Stazon Black, Concord Crush
Paper:  Concord Crush, Brushed Gold, Whisper White
Accessories:  Star Punch #119875, Small Star Punch (retired), Modern Label Punch #119849, Gold Brad #104337, Corner Rounder Punch #119871, Backgrounds 1 Texturz Plate #114512, Gold Cord (retired), Square Lattice Embossing Folder #119976, Sticky Strip #
Directions:
Cut Concord Crush 5 1/2" x 7 3/4".  Score at 4 1/4" and 6 3/4" (this makes a flap that folds down over the front pocket).  Emboss just the front portion with the Square Lattice folder (if you fold down the flap, it will be the underside of the embossing, but it's okay.)  Emboss the gold cardstock (5 1/4" x 3 or longer) in the Texturz Folder.  Round the corners if you want.  Adhere gold to back of Concord Crush.  Use Sticky Strip #104294 to adhere front flap when folded up.  Decorate the front however you like.  The insert is Concord Crush cut at 4 3/4" x 4" and of course each successive layer is 1/4" smaller.  The tab is the Modern Label Punch folded in half and secured with a brad.  You could also use a tab of ribbon.
Have fun making this card or your variation of it!  To see a graduation pocket card announcement I made several years ago, see THIS post.
If you need any stamping supplies, please check out Stampin' Up! HERE.