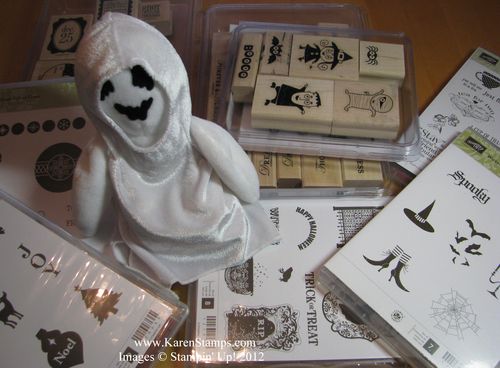 Wow!  Stampin' Up! is going all-out on Monday, October 29th!! 
For ONE DAY ONLY you will get 15% off any stamp (almost!) from Stampin' Up! The goal is to sell more stamps in a single day than ever before! It's the one-day Sell-A-Stamp Spooktacular!
Here are the details:
Starting at 12:00 AM (MT) and ending at 11:50 PM (MT), almost every stamp will be 15 percent off.
This means all stamps in the current catalogs including: 
Background stamps

Personalized name stamps

Cookie press stamps

Single-image stamps
This DOES NOT include:
Hostess sets
Bundled stamp sets
Digital stamp brush sets
There is no minimum purchase, and no limit to the number of stamps you can order.
This is going to be a contest for all Stampin' Up! Demonstrators and we will get prizes (new items from the spring catalog!) according to how many stamps we sell! So I'll get the prize, but you will get the 15% off deal! That's the important part…the sale price that you get!  And if I win a prize, I'll be showing you how to use it on my blog!
So your assignment this weekend is to grab your pencil and paper, your computer word-processing program, your Excel spreadsheet, or  your app on your smartphone and start making your shopping list of stamps!! Then you'll be ready on Monday, October 29th for the first-ever Stampin' Up! Sell-A-Stamp Spooktacular!
Look here for all the catalogs to start your list!!
Or click here to view the stamps in my Online Store! On Monday, all the stamp prices will reflect the 15% savings.
But that's not all…….
Stampin' Up! has added more SINGLE STAMPS to their test program!  It must be popular!
You can see all the Single Stamps available for purchase HERE:
But that's not all……….really!!!!………..
Monday Oct. 29th is Digital Scrapbooking Day and Stampin' Up! will celebrate all week! More about that later!