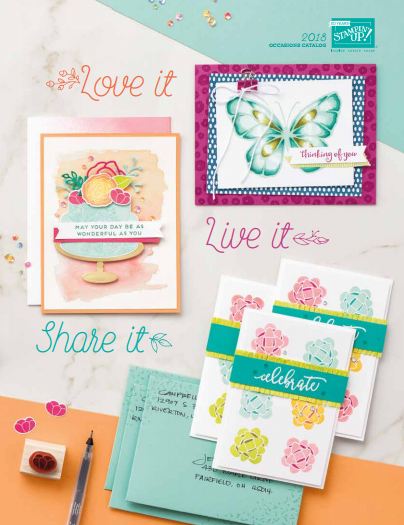 Yesterday was such an exciting day with the premier of the new Stampin' Up! Occasions Catalog plus the beginning of Sale-A-Bration! I'm still working on my order because of course I want way more than I can get at one time!
A couple of things:
The Picture Perfect Paper Ribbon on page 5 of the Occasions Catalog is no longer available. Businesses worldwide have been affected by some kind of factory issues and this cute ribbon is one of the products so delayed that Stampin' Up! has decided to remove it from their offering.
In the Occasions Catalog on page 19, the number of sheets in the Painted Love Gold Vinyl Stickers is incorrect. The product includes 

4 sheets: 2 each of 2 designs.

Something you might miss because it isn't fully pictured on the page is the Scattered Sequins Dynamic Textured Impressions Embossing Folder #145649, way down in the right hand corner of page 13.
The Brusho Crystal Colour is not real obvious in the top corner of page 26. I'm really excited about trying these out! Real watercolor artists use these! If you get them, DO NOT open the lid!  They say the crystals are so fine that just opening the bottle will release them like a powder that will go everywhere! I think there is a warning on the box. It is recommended that you just take a pushpin or Paper Piercer and poke 1-3 holes in the lid without opening anything. Then leave the pushpin in the hole when you are finished using.  Use the bottles like a salt shaker!
Enjoy some more videos about the new products in the Occasions Catalog so you will know what you want to order (well, everything, but most of us can't!)!
I hope you are loving all these exciting new products in the Occasions Catalog and planning your purchase so you can take best advantage of Sale-A-Bration!  Remember, with every $50 purchase you will earn a FREE Sale-A-Bration item from the special brochure.  Look for the $50 icon scattered through the brochure.  If you have a $100 order, maybe you want to choose one of the two $100 choices, identified with the $100 icon!  This is something new this year.  You could choose one $100 item or 2 $50 items and so on.  Let me know if you have any questions or need help deciding!
If you are new to Stampin' Up! or haven't ordered in awhile and would like the new catalogs, please email me at Karen@Karenstamps.com and I will get the catalogs in the mail to you, compliments of me! I would be happy to be your Demonstrator and help you with this wonderful hobby of ours!