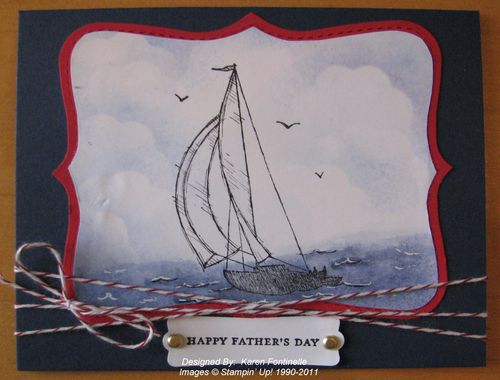 Father's Day is June 19th so it is time to be making Father's Day cards.  There are plenty of Stampin' Up! ideas for Father's Day cards…just look through your Stampin' Up! Idea Book & Catalog and you'll find a great resource of ideas, even if you change the paper or color or saying.  Sometimes I am surprised myself at how easy it is to be inspired by looking through the catalog.
I had so much fun making this card!  The clouds are made by punching out the solid piece on the Blossom Bouquet Triple Layer Punch #122464 (the first image on the left of the punch), laying it on your paper and then sponging off the edges a little bit with a little bit of ink.  I used Bashful Blue.  Just move it around until you have your sky how you like it!  You just want to be a little more careful than I was and not get much ink on your sails!  For the water I just sponged on some Night of Navy ink.  To emphasize the waves, I used my White Gel Pen #105021 so my sea may look a little stormy!  Everyone should order this Sail Away stamp #123013…great for masculine cards and gifts, summertime themes, nautical themes, general occasions.
You will want to order the Baker's Twine in the Summer Mini (page 10) because it is really trendy right now and certainly easy to use.
And to finish off my card I stamped a greeting from Teeny Tiny Wishes, punched with the Modern Label Punch.  With the two little gold brads on it, it seemed to just "make" the card when I attached it!
This was a simple card to make (and my eyes were dilated from the eye doctor so I could barely see what I was doing!) and just one of those that I LOVED when I got finished!  Isn't rubber stamping grand??!
Order your retiring stamps and accessories today at my Online Store!