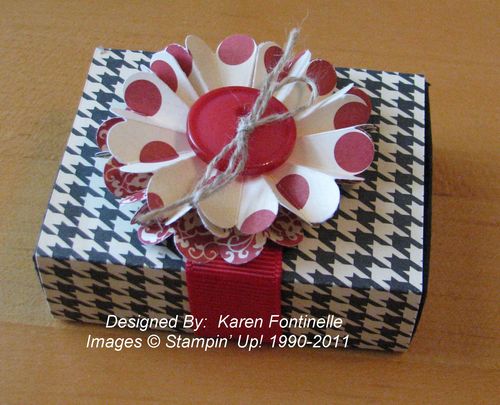 Use the Stampin' Up! Matchbox Die #114890 with your Big Shot #113439 to make this cute little box!  The Love Letter Designer Series Paper #117162 with the black and white houndstooth pattern really makes this box up-to-date!  Just the other day I read how trendy houndstooth is and that gave me the idea to make something with this paper.  I LOVE the Real Red, Basic Black and Very Vanilla colors in this paper and have seen many cute projects using it.
To top off my matchbox, I used the Scallop Circle Punch #119854 to punch two scallops in the same pattern. Fold each scallop in half, making sure that you aren't folding any scallops on the ends in half…..you want to just fold in the lines between the scallops. Fold in half, open, fold in half in another spot.  I found that if you just go around the circle to each scallop you will probably get them all and get them folded correctly. After you have made all the folds (so that it looks like spokes on a wheel), take your Paper Snips #103579 and cut on just one of those lines into the center.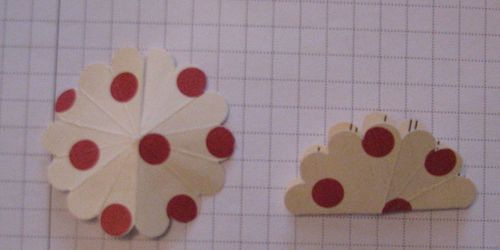 Then starting with the slit, accordion-fold the scallops back and forth all the way around.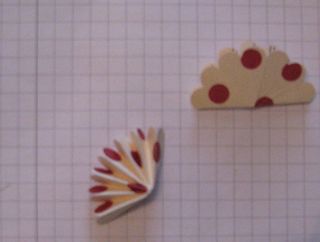 Take the two folded scallops and adhere them together do you have one whole flower…..you can even use three scallops if you want!  On my matchbox, I actually used two scallop flowers, one with a different pattern on the bottom.  Then I attached a linen-threaded Real Red button from the Candy Cane Big Designer Buttons which were in the Holiday Mini.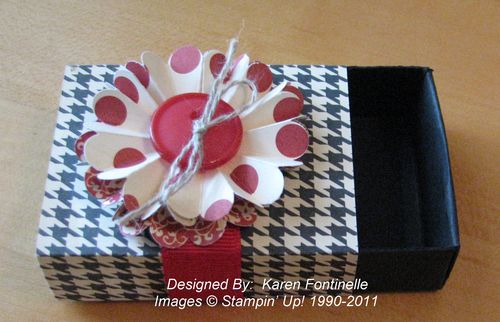 If you need any supplies to make cute little projects like this, please visit my Online Store HERE.