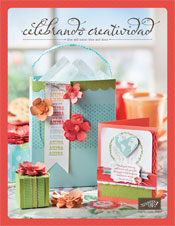 Hispanic Heritage Month, September 16 to October 15, 2011, is observed by Americans to honor Hispanic culture and history. It celebrates the independence of five Central American countries as well as Mexico and Chile declaring their independence during the month of September.
Stampin' Up! has developed a wonderful Hispanic product line of Spanish language stamp sets and accessories for your rubber stamping, scrapbooking, and papercrafting pleasure!
In addition, Stampin' Up! is looking for people who would be interested in the business opportunity. As an independent Stampin' Up! demonstrator, you would be selling the high quality rubber stamps, paper, inks and accessories that Stampin' Up! is known for by holding workshops with your friends and other new customers who often also become your friends. It's easy to teach anyone to stamp and a whole new world opens up to them!
Stampin' Up! is offering US Hispanic opportunity calls.  You just call in at the proper time and listen to a 15-minute message about the company's history, learn about the products and the benefits of becoming a demonstrator, and hear more about the Hispanic market opportunities. You'll be able to ask questions and there is always an invitation to join the Stampin' Up! family!
The calls are held every Wednesday in both English and Spanish:
11:00 AM (MT) for English
4:00 PM (MT) for Spanish
To participate, simply call 877-787-7226 (toll free) at the appropriate time.
There will probably also be a special incentive to those who call in and become demonstrators within two weeks of the call!
To read more, please click this link HERE.