If you thought you liked the old Paper-Piercing Tool and Mat Pack with the one paper-piercing template, you will LOVE the new bigger and better Essentials Paper-Piercing Pack #126187. This pack has 3 templates, each 6"x6". There is also the new Paper-Piercing Tool #126189 and the Stampin' Pierce Mat #126199 You can find all these great new stamping tools on page 181 of the new Stampin' Up! Catalog.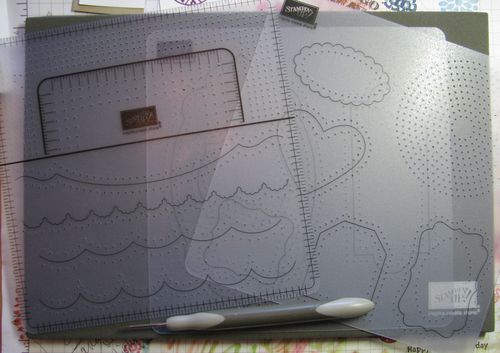 In making this card, first I cut the edge with the new Large Scallop Edgelits Die #127019.
Next I matched up my scallop edge with the proper scallop template.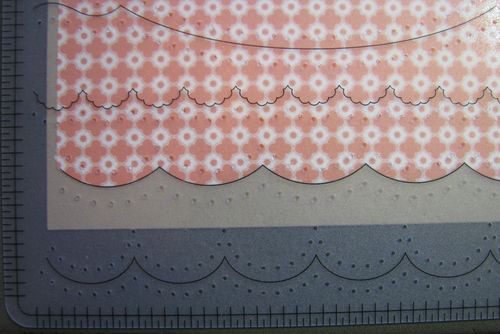 Then I used the new Paper-Piercing Tool, which is much more comfortable to hold and use due to the ergonomic design of the handle. It even comes with a protective tip and storage tube.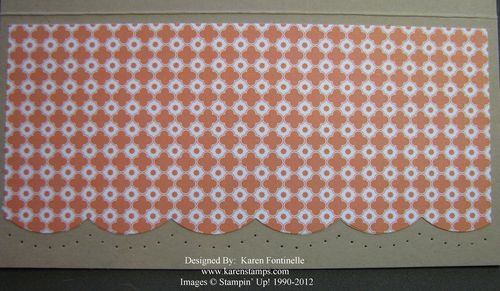 Isn't that lovely?!!  And so easy to do now with the larger template. With this finished card being 3"x6" I did have to move the template over to finish off the scallop but that wasn't difficult.
Put these accessories on your order today!  You will love them! To order any Stampin' Up! products, please click HERE to go directly to my Online Store! And anytime you would rather I put your order in for you, please just contact me at Karen@KarenStamps.com. I'm happy to help in whatever way makes it easy for you!