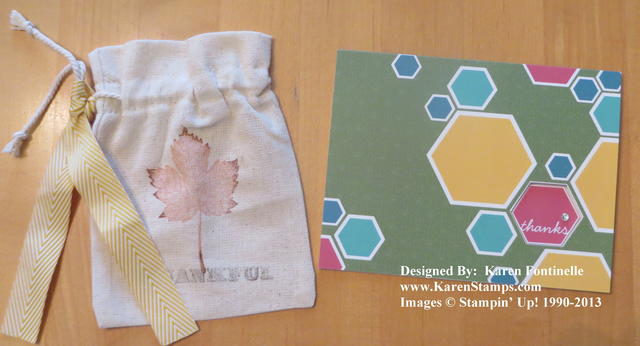 MDS Thanks Card Using Hexagon Punch
I've said before I always get flustered doing Make & Takes at the Stampin' Up! Convention and usually end up just bringing the packets home and doing them at my leisure at my kitchen table. This year they did still have Make & Takes but you had to fit them into your own schedule and there were too many things to choose from.  But there were two mini classes, each with a very quick and easy project.
The first one I went to was called the Thankful Sack.  These are all new products coming in the Holiday Catalog August 1st.  We just stamped a maple leaf on a small muslin bag and added the word "Thankful". We did the "rock and roll" technique with the leaf stamp, where you ink up the stamp in a light color and then roll just the edges of the stamp in a darker color to get a two-tone look.  My first one didn't come out too well, but just like paper, a small muslin bag also has two sides and it doesn't hurt to have a leaf on each side, does it??  The cutest part, I think, was tying the piece of Crushed Curry Chevron ribbon around the tie that already comes on the bag!
The second project was a My Digital Studio card.  The card was already made in MDS and printed. At first I didn't know what we were going to be able to do with this card except put a rhinestone on it. But what we did was punch out the greeting with the Hexagon Punch. Since it was then the exact same size as the hole, we trimmed the edges just a bit with Paper Snips and fit it back into the hole but adhered it to the inside of the card with a Stampin' Dimensional. Then we added a Rhinestone Jewel as a finishing touch!
Here you can see the card close-up and hopefully see how we did the punch.  This makes an MDS card into a "hybrid" which is part digital and part traditional.
If you are interested in any Stampin' Up! traditional products or the My Digital Studio digital papercrafting software, please visit my Stampin' Up! Online Store right here!