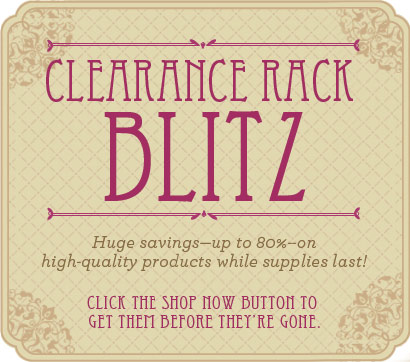 Click on the image above or the highlighted link to go directly to the Stampin' Up! Clearance Rack on my website to check out the new additions!  Nearly 200 new Clearance Rack items are being added to the Online Store at discounts up to 80 percent off retail–while supplies last!
Only online orders qualify for this promotion. Orders can include non-Clearance Rack items, as well.

The Clearance Rack Blitz includes old-body style punches.

There is no minimum purchase required to participate in this promotion.

Qualifying Clearance Rack orders are eligible for hostess benefits/Stampin' Rewards.

Clearance Rack Blitz items are only available while supplies last. There are no refunds or exchanges on Clearance Rack items.
Here are some things that jumped out for me…..LOTS of punches (a few new style), Silver Tinsel Trim (use it this Christmas or any time!), beautiful Botanical Gazette Designer Paper, Candy Cane Big Designer Buttons (and others!), and the Design a House!
Go check it out HERE!!  Because it is the Clearance Rack, it has to be an online order, but let me know if you have any questions.
Remember, it's only WHILE SUPPLIES LAST!