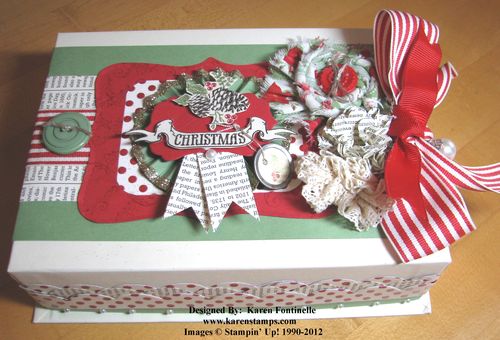 Stampin' Up! came out with this Christmas Keepsake Box a long time ago…maybe over a year ago. First it was an incentive gift, but then they began selling the extras. Now you can find them on the Stampin' Up! Clearance Rack. These boxes are SO beautiful when you make them I can't believe they have any left.
I've had mine for awhile…sitting out so I wouldn't forget it…the retired stamp set not put away…ready to go any minute….well, that minute finally came the other day! It didn't take too long to put together and isn't hard for as elaborate as it looks.  I watched the video that Shelli Gardner and her daughter Sara made while assembling this Christmas Keepsake Box, which is entertaining enough in itself! And then I started working on my box, looking back at the video if I wanted. You can follow their directions exactly, but it doesn't matter if you do it differently or mess up on something. It will all look beautiful in the end! I actually have my bow and flowers on the opposite end of the box than what the directions say….I guess I put the centerpiece on upside down!  But it doesn't matter!  The only thing mine is missing is to apply some spray adhesive and sprinkle on some glitter. I'm sure it will really add the finishing touch!
If you would like to add a bargain to your Stampin' Up! order, just head to the Clearance Rack and add Item #129024. I can only assume a product is still available in the Clearance Rack as I write this; everything in the Clearance Rack is while supplies last and could disappear at any time.  But what a great gift box to make as a gift itself for the holidays!  Put a few handmade cards or a special gift inside and the recipient will be wowed!
Just go to my Online Store to place your order for any supplies you need for your Christmas and holiday giving!