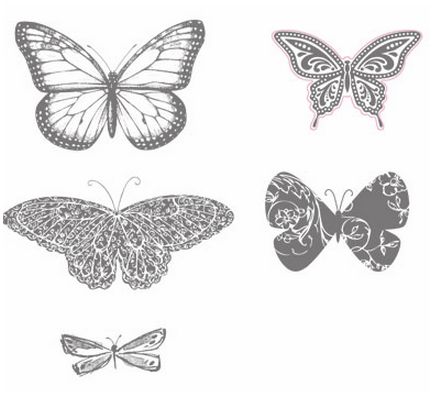 Images copyright Stampin' Up! 2013 
If you love butterflies, you will want to order this new stamp set, Best of Butterflies #133345, from Stampin' Up!  This is the April stamp set for Stampin' Up!'s 25th year celebration of favorite stamps.  One of these images is brand new and the rest are favorites from the past 25 years.  Do you have any of them?  You can see the red line around one stamp….that means a punch will fit it perfectly… the Elegant Butterfly Punch #127526. 
With every one of these "Best of 25 Years" stamp sets, you will receive a special sticker….collect 6 of these stickers and send in the collector's card to redeem for a free stamp set of your choice, up to a value of $14.95.  No worries….these stamp sets still are available after the month in which they are introduced!
Click the image below to read the Best of Butterflies Flyer!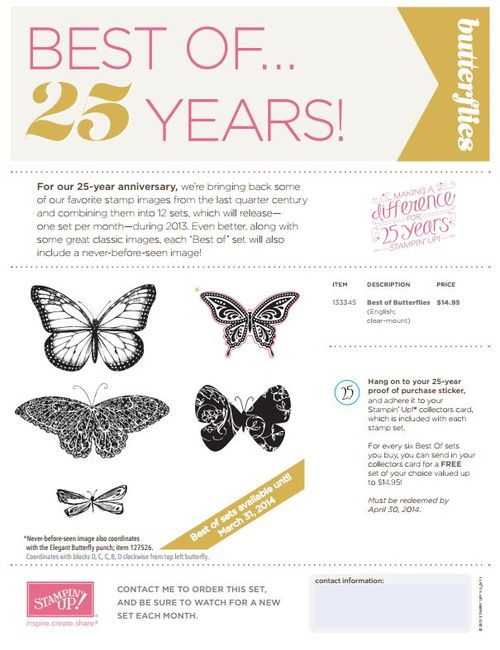 Read the flyer and visit my Online Store to check out this new April stamp set from Stampin' Up! celebrating their 25 years of providing the best in rubber stamps. If you like butterflies, this may be the stamp set you need!