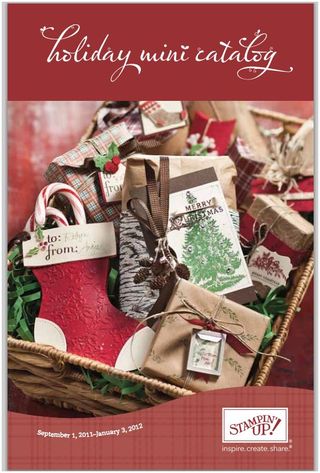 Can you believe it?  Today, January 3, is the last day to order from the Holiday Mini Catalog!  Remember way back when we were SO excited that it had come out with all the fabulous new holiday products?  And now that time has passed.  
If you have been super-busy over the Christmas holidays with kids, husbands, and family (and who hasn't??!) today is your day! Everyone is probably out of the house and back to work today, so take a few minutes to look through your Holiday Mini one more time and see what you might have missed.
The Stocking Builder Punch #124095 is not being carried over at all, in fact it is being discontinued, so if you want this punch order it today while supplies last.
The Early Espresso 3/8" Quilted Satin Ribbon is no longer available for purchase due to overwhelming demand.
To see the products that ARE being carried over from the Holiday Mini Catalog and you can continue to order after the mini expires, Click HERE.
Perhaps some of the stamp sets will show up again in the next new Idea Book & Catalog, but we won't know that until the catalog previews!
I was looking through the Holiday Mini Catalog to see what products I would particularly recommend that you take a second look at, but it is too difficult!!  There are so many wonderful products in there you just have to look for yourself! Don't forget, there are a few stamp sets you can use for other seasons and holidays, such as Valentine's Day coming up, so don't miss out!  Really a great catalog!!  Just check it one more time!
You can order online yourself…..just be sure you start at my website rather than the Stampin' Up! website so that if  you have a large order you will get Hostess Rewards.  Click HERE to order Online from me!  However, if you prefer, just email or call me with your order and I'll put it in for you!
If you are ordering ONLINE, be sure to check the Clearance Rack! There are extra products added for the Clearance Rack Blitz and that Blitz ends on January 5th! Remember that when the Clearance Rack Blitz ends, some blitz items may remain in the Clearance Rack, while others may be removed and reappear at an undesignated time in the future.