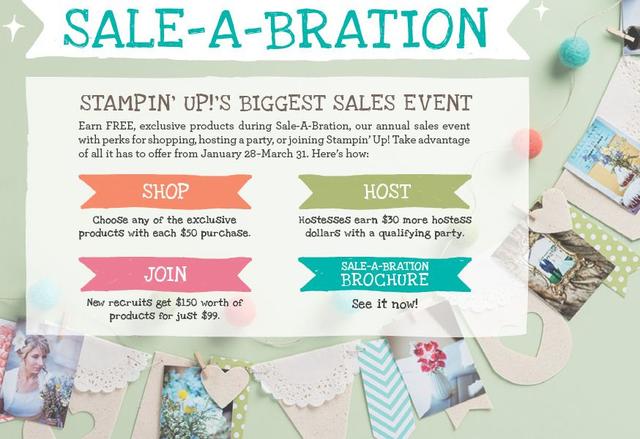 Can you even believe that Sale-A-Bration, the biggest promotion of the Stampin' Up! year, is coming to an end Monday, March 31?!  I can't believe March is ending already, much less Sale-A-Bration! It began in January and seemed like it would go on forever!  But if you don't get your order in by Monday, you will miss out on your free gift with a $50 purchase!  Back in the day, there were just a few free stamp sets to choose from for your free gift!  Now you have many choices for whatever suits you! You're not restricted to the Bundles in the Sale-A-Bration Brochure; you can purchase any $50 in current Stampin' Up! products and earn your FREE Sale-A-Bration gift!  Just ask me if you have any questions or need any help in your choices!
It's not just about one free gift with a $50 purchase!
Join Stampin' Up! by purchasing the Starter Kit for only $99 and get $150 worth of Stampin' Up! products! Start your OWN BUSINESS with Stampin' Up! for only $99 and see what you can do with it! I can help you!
Earn a FREE SALE-A-BRATION GIFT with EVERY $50 you spend!  Spend $150, get three free gifts PLUS Hostess Benefits!! That means choose an extra $25 in Stampin' Up! products FREE!
Digital products to buy and free digital product gifts to use with My Digital Studio!
Gather some orders from your friends!  You be the Hostess! Even non-stampers can use ribbon, scissors, personalized stamps, adhesives, envelopes, gift boxes and bags and more!
Paper Pumpkin will continue, but if you want to get a FREE set of In Color Stampin' Write Markers – a $14.95 value – you NEED to sign up by Monday, March 31!
Go HERE and click the SUBSCRIBE button at the top of that page! Put Quantity 1 in the box.  No Promo Code required or needed. Click "Continue" at the bottom of the page. Fill in your account information on the next page!
Mid-April you will receive the pictured Welcome Kit in the mail with your free clear-block on which to mount these and future stamps. Everything for the project is included in the kit except adhesive.
Mid-May you will receive the next kit that goes out to everyone! (as long as you don't cancel!) I can tell you that since January 2014 the kits have been getting even better!  It's just fun to receive a gift in the mail!  This is the cutest package and something special just for you!  Get a couple month's worth of kits and see how you like them! No obligation, you can always cancel or even just PAUSE your subscription and come back to it. You can even order extra kits in a month.  Just make any changes in your subscription before the 10th of any month to take effect that month!
Ask me if you have any trouble signing up or questions! You're worth a special gift for yourself!!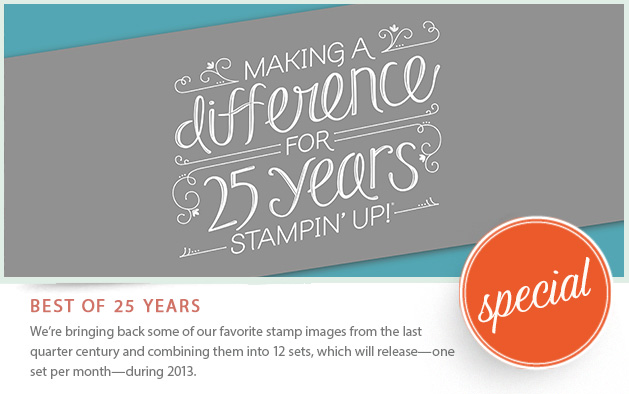 Even though Stampin' Up! released these special Best of 25 Years stamp sets to celebrate the 25th Anniversary of Stampin' Up! of past images (plus one new!) over the past year, they have still been available all this time – but now only until MONDAY, MARCH 31! Purchase six stamp sets altogether and send in your proof of purchase Collector's Card and get a free stamp set! If not six, at least make sure you have the images you want before they are gone!
***As a special incentive to collect the Best of stamps, we're including a collector's card and 25-year proof of purchase sticker with every Best of set. Collect six stickers, and send it in to redeem a FREE set of your choice valued up to $14.95! Free sets must be redeemed no later than April 30, 2014.***
Whew!  Lots of information, but you just have this weekend and MONDAY, MARCH 31 to get in on these deals!  Don't want you to miss out because you forgot or weren't sure! Don't wait until the last minute if you can do it sooner! Email me at Karen@KarenStamps.com if you have any questions or need any help with ordering or anything!