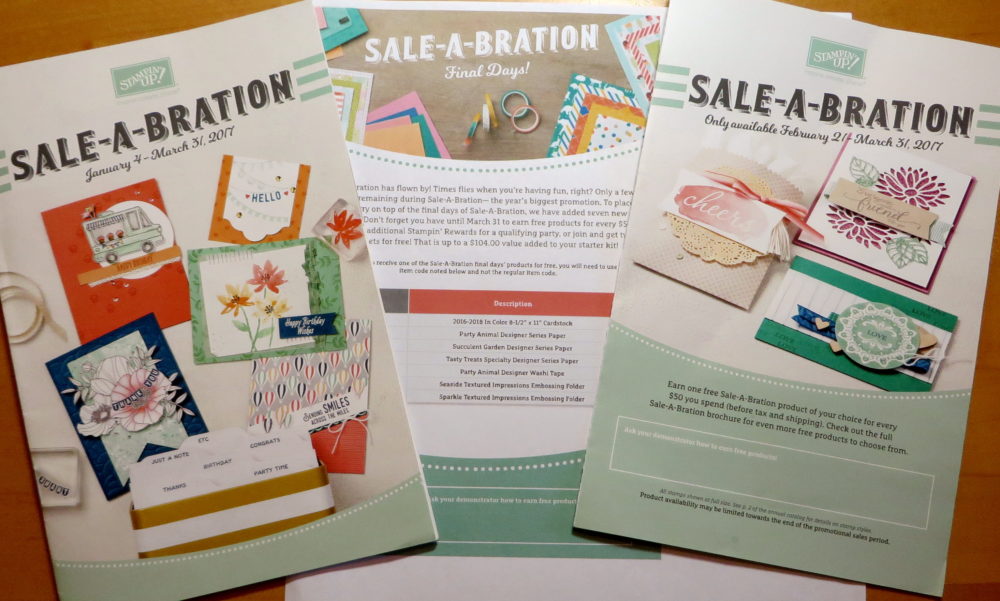 This is it!  Today, March 31 is the last day of Sale-A-Bration! This is Stampin' Up!'s biggest promotion of the year so don't miss out!  Just spend $50 on any Stampin' Up! merchandise and choose a FREE GIFT from the Sale-A-Bration products!  A few are no longer available but there are still plenty to choose from! No limit to the number of gifts you can earn!
Need suggestions?
If you ever wanted a Big Shot, this is a great time to buy one! The Big Shot comes with the platform and cutting pads for $110.  That earns you TWO FREE Sale-A-Bration gifts! If you want to buy some dies or anything else for $40 more, you will be at $150. You will receive THREE FREE Sale-A-Bration gifts PLUS 10% in Stampin' Rewards….so at $150 you will get $15 to spend on MORE products!
Stock up on Adhesives!  You're going to use them anyway, might as well get $50 worth to keep on hand….or less plus other stuff, like cardstock!
Stock up on the outgoing In Colors while they are still available! There could be a rush when the Retirement List comes out in April.
Your husband called and said you should buy anything you want today from Stampin' Up! Go for it! (especially in $50 increments!)
Buy a 3-month Prepaid Paper Pumpkin Subscription on your Stampin' Up order – or even if you subscribe monthly, put the 3-month prepaid subscription on your order and this will be used before your monthly subscription and then revert back to your monthly order. (It's easy, really!) The only caveat is that if you ONLY order the prepaid subscription to get a free Sale-A-Bration gift, you will have to pay minimum shipping to receive the SAB gift.  So add on some other Stampin' Up! items you want to make it worthwhile! But it's still a way to get a free SAB gift!!
Have fun doing your Stampin' Up! shopping today!  Let me know if you have any questions!