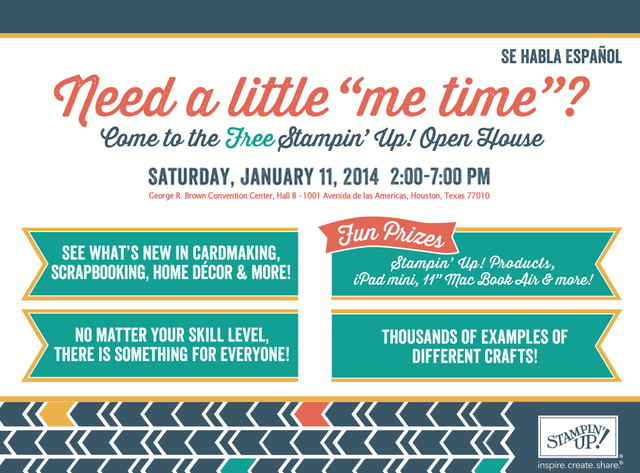 From the Stampin' Up! Facebook Page!
"In the Houston area? Join the folks from the Stampin' Up! home office on January 11 from 2:00-7:00 PM for a FREE open house at the George R. Brown Convention Center. We're planning a lot of demonstrations and giving away some great prizes. No need for tickets or registration—just show up and have fun!"
The Stampin' Up! Leadership Conference is next week January 9-11 so I guess while they are in town, they decided to have an extra event, a free Open House for anyone to come and get acquainted with Stampin' Up!  Let me know if you think you might go!  Sounds like fun!!
Learn more about Stampin' Up! product lines HERE, if you are not familiar with all that Stampin' Up! has to offer!
And for more about the Stampin' Up! Business Opportunity, HERE is some information. You're always welcome to ask me for more information or to answer your questions, too!