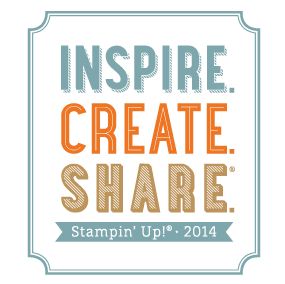 I may not be attending the annual Stampin' Up! Convention in Salt Lake City, Utah this year, but I'm trying to keep up with every tidbit of it that I can find from home!  Thank goodness for the internet! Stampin' Up! even had a live stream yesterday morning of the opening of Convention (this year called Inspire.Create.Share.2014) and a good part of the first General Session. I was beyond thrilled that they broadcast more than a few minutes of it! My live stream worked great until it got to Becky Higgins of Project Life being interviewed by Shelli Gardner, then it konked out! I can't wait until they live stream another segment of Convention this morning! It really is just like being there, except my feet don't hurt! Of course my feet wouldn't have hurt yesterday morning yet, but there is a great amount of walking all over that convention center and to and from the hotel.
Often the Stampin' Up! convention begins with many Stampin' Up! employees standing just inside the doors when the demonstrators enter. It's a thrill to be greeted by all of them, it makes us feel like celebrities! But this year, the employees, by department, were part of the opening on stage which looked fun! Looked like some fireworks on stage, too! Real fireworks!
Shelli Gardner came out, tissue in hand. She often gets emotional on stage during her presentations, part of her charm, and it's not hard to feel emotional about Stampin' Up! She barely got started in her remarks when everyone in the audience got a free stamp!
Pam Morgan gave her presentation about the Holiday Catalog! I think most people are saying this is the best catalog ever, which I know we said last year and probably the year before that! This year's Holiday Catalog will have lots of Sizzix products in it, so be sure you have a Big Shot (and next month will be a good time to order one!). Lots of packaging products and ideas for the holidays, kits for making cards, more stamp sets with sentiments for the front of the card AND the inside! More of the photopolymer stamps for easy alignment, Project Life, and builder sets. The beautiful photopolymer stamp set Endless Wishes, that sold out quickly last fall when photopolymer stamps were new, will be reissued. There will be gift wrap, ribbon, a gift box punch board, more Project Life for the holidays, beautiful papers, and more, of course!
Also, the most recent demonstrator to reach $1 million in sales, Connie Heisey, was brought up on stage by Shelli to be recognized! She had previously been invited to the Home Office to spend the day and celebrate this amazing milestone! While on stage, the "delivery man" wheeled out about four Stampin' Up! boxes (you can barely see him leaving behind Connie) (wish I'd gotten a better photo of him!) as Shelli told Connie she would be receiving EVERYTHING in the Holiday Catalog! Then there was a poof of confetti to celebrate this amazing milestone!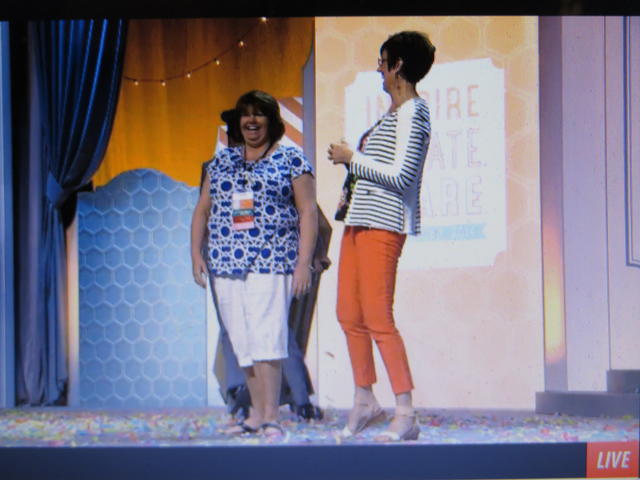 Here are some more of the photos I took of my laptop screen while I watched the live stream yesterday! Didn't think of doing it from the beginning!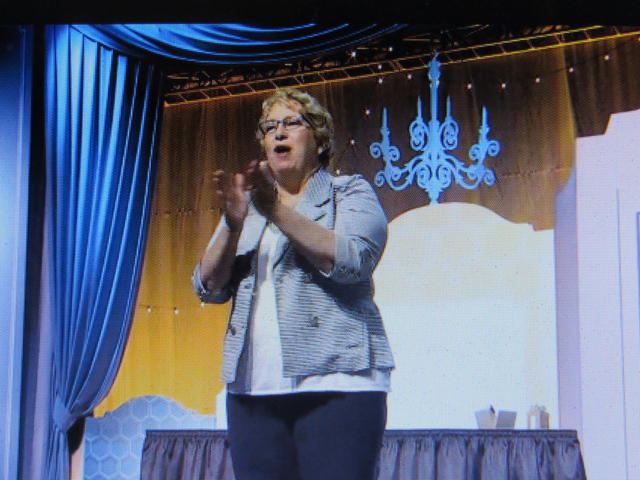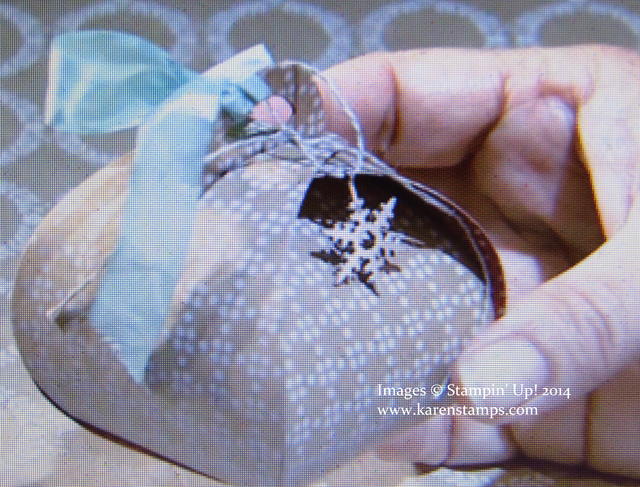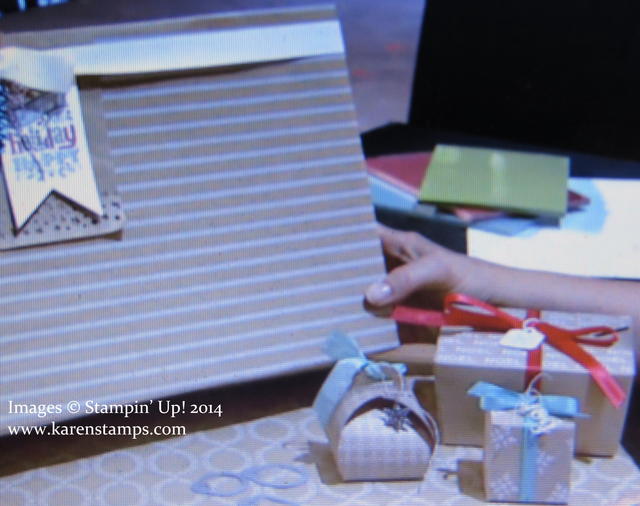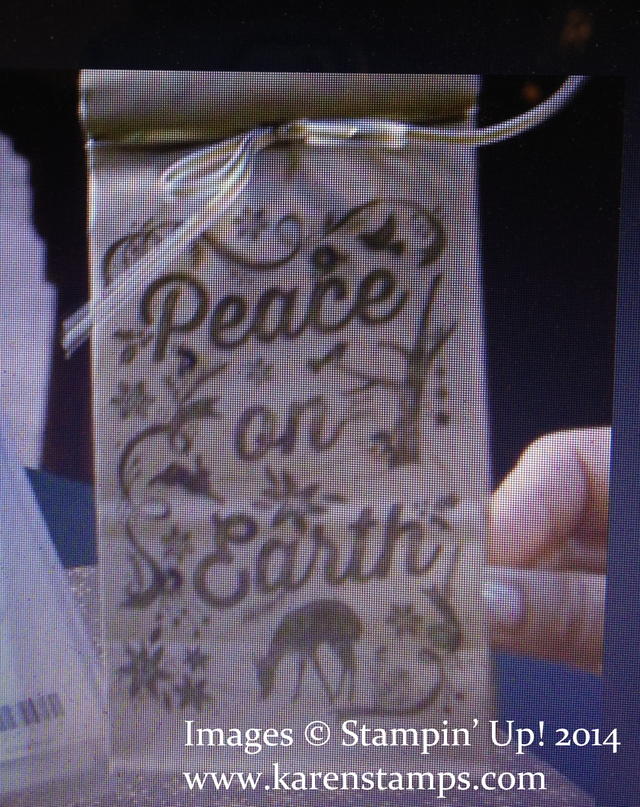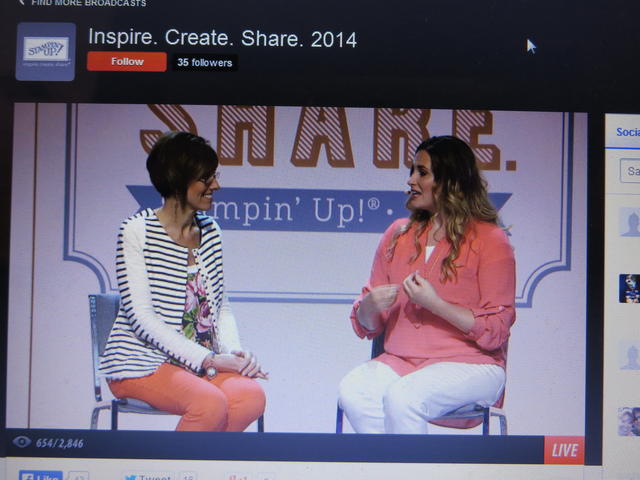 In the afternoon and evening there were classes and additional demonstrations, which, from what I read online, sounded like they were terrific!
I know that at the Paper Pumpkin party the night before, demos got to make one item in the September Paper Pumpkin kit. It looked pretty cute to me! And apparently they got to view some other months' kits, with a guard nearby, so no one would take photos! But they say the Paper Pumpkin kits just keep getting better so if you would like a Stampin' Up! Paper Pumpkin papercrafting kit to come to you in the mail each month, remember the special going on! Save 50% on the first two months, for new subscribers only, by using the code: HALFOFF2 
And now I have to go check on the time for the live stream from Convention!