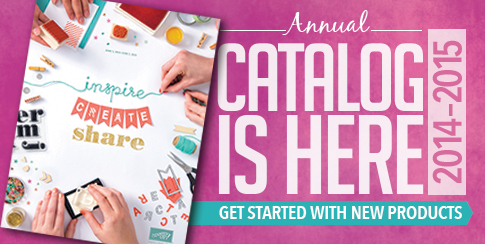 The store isn't open yet as I write this, but the new Stampin' Up! 2014-15 Catalog is available for viewing online! While you are waiting for the ordering to begin, take some time to page through the catalog online.
Everyone is excited about the new alcohol markers, the Blendabilities. Unfortunately, these markers are not available quite yet on the day the catalog goes live, but the good news is Stampin' Up! believes the supply will be adequate by the end of June or early July.
JOIN STAMPIN' UP!
Now if you find you have a ton of excitement over this new catalog and you love everything Stampin' Up!, you might want to consider joining the Stampin' Up! family and becoming a Demonstrator! This is an easy way to start your own business for some extra cash for you and your family or whatever your needs are – not to mention your own pleasure! 
Right now through June 30, 2014, Stampin' Up! has a special offer for you. For the next month, new recruits that join Stampin' Up! can do so at the traditional Starter Kit priced at $99 ($125 product value), or for a limited time, a reduced priced Starter Kit at the low price of $50 ($55 product value.) Both kits come with the business bricks which includes catalogues, order forms, and more.
For more information, please check out the information HERE.
The benefits really are incredible! And you can grow your business to whatever level you desire.
Email me at Karen@KarenStamps.com if you have questions, concerns, or want more detailed information!