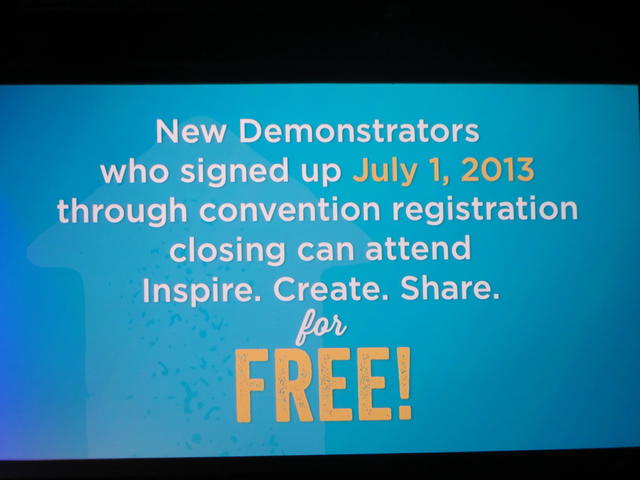 Want to be a Stampin' Up! Demonstrator, get in on all this fun, and make some extra money all at the same time?! Here is an enticement Stampin' Up! offered yesterday at Leadership 2014 here in Houston, Texas. Start your own business selling Stampin' Up! products for making cards, scrapbooks, photo albums, gifts, digital products, all kind of things. Whether you would like a little extra cash or want to make this your full-time business, there is a place for everyone in Stampin' Up! Sometimes you don't even know where it will take you, as evidenced by a demonstrator recognized at Leadership for having a million dollars in sales! She signed up with Stampin' Up! with no intention whatsoever of selling and look what happened!!
I don't have all the details yet, but if you sign up and join my team between now and the time Convention registration closes, you can attend Convention as a new recruit without paying the registration fee. (Of course there is travel, hotel and meals on your own!) I think everyone should attend a Stampin' Up! event AT LEAST once, if not all of them!, because you have to feel the energy and the genuineness of the company in person, all led by Shelli Gardner, Co-Founder and CEO of Stampin' Up!, everyone's best friend! That's how she makes you feel anyway when you are any part of Stampin' Up!
The new name they are giving the Stampin' Up! Convention is "Inspire.Create.Share" because they said Convention is so much more than "convening"! There is lots of inspiration and creating that goes on and we all love to share what we do and what we love about Stampin' Up!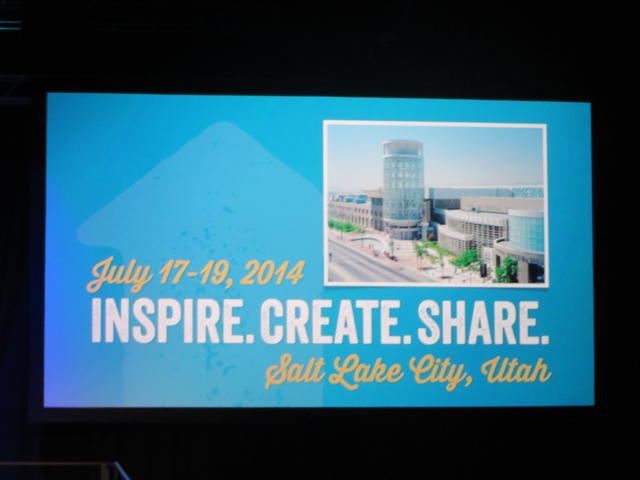 Salt Lake City is so excited about having our convention there that they asked Stampin' Up! to share some of their famous saltwater taffy with all of us at Leadership!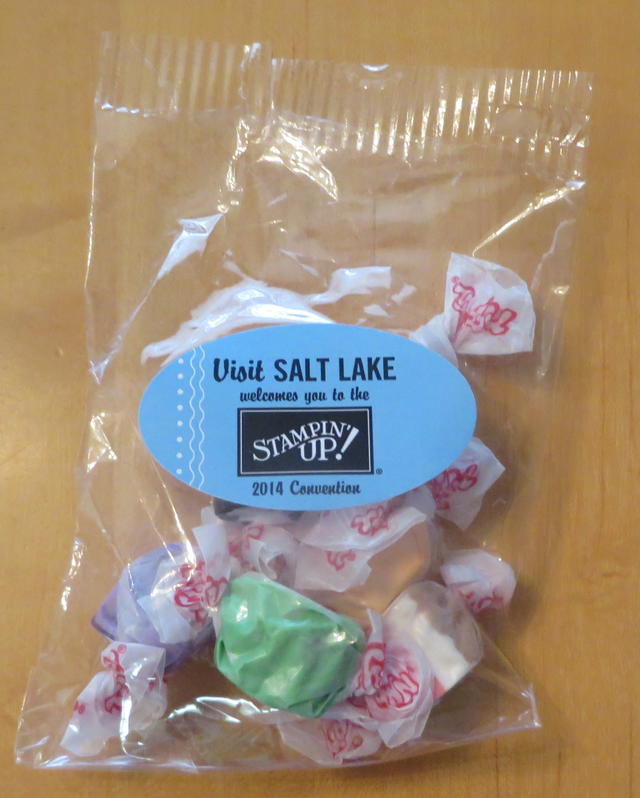 Would you just like some information on becoming a Stampin' Up! Demonstrator? You can think about it and decide if this is the right thing for you at the right time. You just purchase the Starter Kit, which is fully customizable these days, and is a great value in itself. You don't even have to know anything about stamping or business. I can help you get started myself plus refer you to Stampin' Up! and other resources. Stampin' Up! will even be opening an online "Stamping University" in a few days as part of their training section with lots of information and videos.
Becoming a Stampin' Up! Demonstrator can be a fun experience and even a profitable one! Think about it and contact me at Karen@KarenStamps.com if you would like to discuss any questions!