I've read many times that coloring is actually very relaxing and good therapy for us, so because I wasn't feeling well this morning, I decided to get my mind off myself by coloring with the fun new Stampin' Blends alcohol markers and the Just Add Color Designer Series Paper. One of the patterns in the package have teapots and teacups, and that is what I chose to color.
Do you have teapots or fancy teacups?  There seems to be something special about them. Perhaps we don't use them as much these days, but when I see a nice teapot I think of my grandmother. I also think of all the fancy luncheon plates and teacups I have packed away in the closet because we just don't entertain with nice things like that these days. My grandmother had a "tier table" with all kinds of tea cups on display.  She said some of them my grandpa got as party favors when he was young! That sounds very odd to me, but that's what she told me. I did get a teacup at a bridal shower a few years ago as a favor!
Here are some of my teapots!  The one in front is my own from a trip to Canada a million years ago (before kids) and the two behind were my grandmother's. There are more scattered around my house!  So I think there is something special about teapots!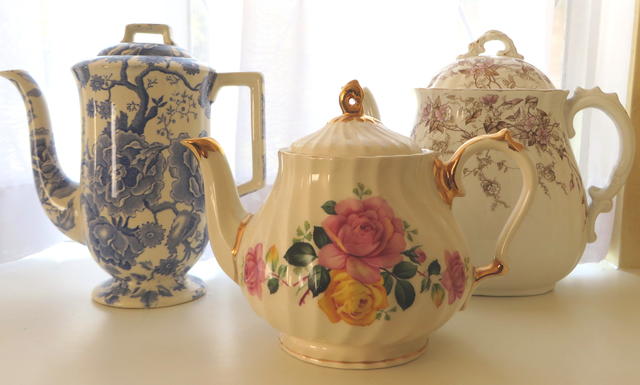 After starting to color the teapot and teacup on the Just Add Color paper, I decided I would cut them out and put them on a little "shelf" with some lace trim underneath!  The card base is Berry Burst, one of the new In Colors. The Naturally Eclectic Designer Paper background is layered on Whisper White Cardstock to help it stand out.  The little shelf is made from a scrap of the wood-look paper in the Wood Textures Designer Series Paper Stack. Along the underneath edge of the shelf, I adhered a piece of the Very Vanilla 1/2″ Lace Trim.  The greeting is stamped from one in the Special Celebrations Stamp Set.
The Stampin' Blends are the new alcohol markers and so pleasant to color with!  You can buy the markers individually or get the whole collection.  There is no price difference, so you can choose whatever works best for you!  Get at least a few and try them out and see how you like them! For coloring, they do work better than the Stampin' Write Markers that are always so popular, but they have their advantages and the Blends have theirs! So of course you need both!
If you like my Stampin' Blends Just Add Color Teapot Card and have a special story about teapots or teacups, please add a comment!  Click the Reply button at the top of the post.