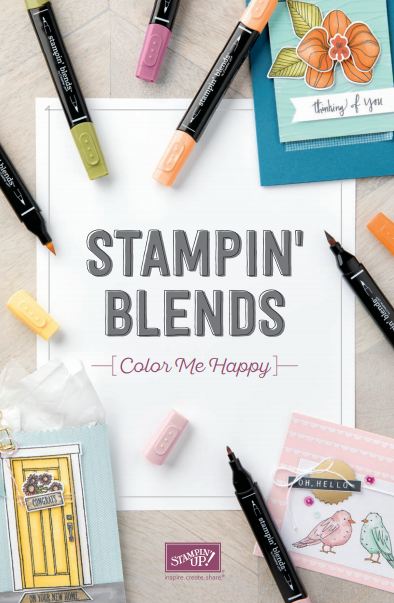 The new alcohol markers from Stampin' Up!, Stampin' Blends, are here and ready for purchase!  These markers will take your coloring to new heights! Everyone can look like an artist!
The markers have dual-tips and each color has a light and dark shade.  You can buy the markers individually or in a complete collection. The Memento ink is recommended to use with the alcohol markers.  You can use Whisper White Cardstock, but it is recommended to use the Thick Whisper White Cardstock.  The Shimmery White Cardstock also works well and is pretty as well!  The ink from the markers is likely to bleed through the paper so you always want to have a scrap piece of paper of some kind underneath your work.
Watch these videos to learn more about the Stampin' Blends Markers and how to use them!  They really have a delightful feel to them when you color!
As you can see in the videos, you can start with the most basic coloring just to get used to the  feel of the markers.  Then add in blending and even blending different colors together rather than just the light and dark shades of one color. As Brandi showed at the end of her video, she used various colored markers to make different skin tone colors. You can be as basic or as stepped-up as you want!  They are your markers to use!
I think you will find the Stampin' Blends have a really nice feel to them when you color.  And we know coloring is good for the soul! Just sit and color and relax, forget everything else for awhile! I remember how I used to love it when I was young if my mother would sit down and color with me because, of course, I thought she did the best coloring in the world!  Now you can do the best coloring in the world with the Stampin' Blends Markers!