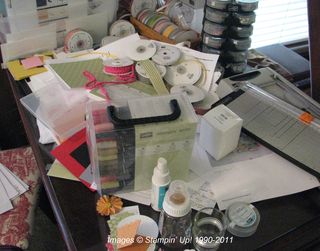 Do you need a stamp space makeover?  Don't we all?!  Here's a good reason, actually two, to be a Stampin' Up! Demonstrator!  If you are a Stampin' Up! Demonstrator and register to go to and attend Convention (the most fun event in the world!) in Salt Lake City in July, you may submit a video to enter a contest on why you deserve a makeover of your stamping space.  And the prize is:  Shelli Gardner herself, Co-founder and CEO of Stampin' Up!, will come to the winner's home and work her magic to redesign the winner's stamping space!  The winner will be announced at Convention!  How COOL would that be??!!  And how cool of a company is Stampin' Up! to offer something so fun! Wouldn't you like to be a part of a company like that?
While you can join Stampin' Up! any day, today is the last day of Sale-a-Bration and the last day to get 15% off the Starter Kits (you may choose between the standard kit and the digital kit) AND receive an extra bonus bundle worth $50 in free products!  Registration for Convention will begin soon so you will be just in time!  Then you can start thinking about the video you are going to make to try to win a stamping space makeover by Shelli!!
Just click HERE to learn more about joining Stampin' Up! as a demonstrator…..then click on the "Join Now" button on the left on that page and you'll be signed up in a matter of minutes!  I'd love to have you on my team!