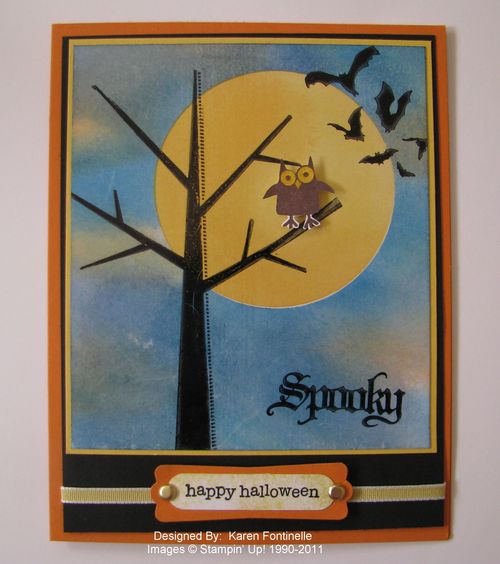 This Spooky Halloween Tree card was so much fun to make!  I used Glossy White card stock #102599 so that I could do lots of sponging of color. I wanted a big moon in the sky so the silhouette of the tree would show.
The way you make the moon is with the 2 1/2" Circle Punch #120906 and post-it notes….or at least some sort of circle stencil. I punched a hole in a post-it note with some sticky on the back.  First I placed the punched-out piece down like a stencil to color in the moon.  I used a sponge and several colors of yellow classic ink with a touch of Pumpkin Pie.  Then I removed the stencil piece and stuck on the circle I had punched as a mask to cover the moon I had just sponged.  That way I could sponge the background sky without getting ink on the moon. I just used different blues…I think Pacific Point, Not Quite Navy and Night of Navy…with a little Pumpkin Pie thrown in and maybe some yellow.
Next I stamped the tree from Season of Friendship #111776, the bats and the word "spooky" from Wicked Cool #120600 (clear).  The owl I stamped in Chocolate Chip from Spooky Bingo Bits #123946 (clear) and cut him out with my Paper Snips. The Halloween greeting is from Teeny Tiny Wishes.
It was really fun to play with all those colors and doing the sponging.  So if you need some Halloween stamping supplies, be sure to go to my Online Store HERE and place your order!
***If you aren't already on my newsletter Mailing List, be sure to sign up in the box in the upper left!  On Wednesday you will start receiving my "12 Weeks of Christmas" weekly idea of a Christmas idea…a card, gift, or packaging ideas!  You won't want to miss it!!