Grab one of those paper gift bags you have and let's make a spooky ghost gift bag for Halloween! You might want to take a hostess gift to a Halloween party or maybe someone has a Halloween birthday. There are so many fun Halloween ideas out there you should use them whenever you can!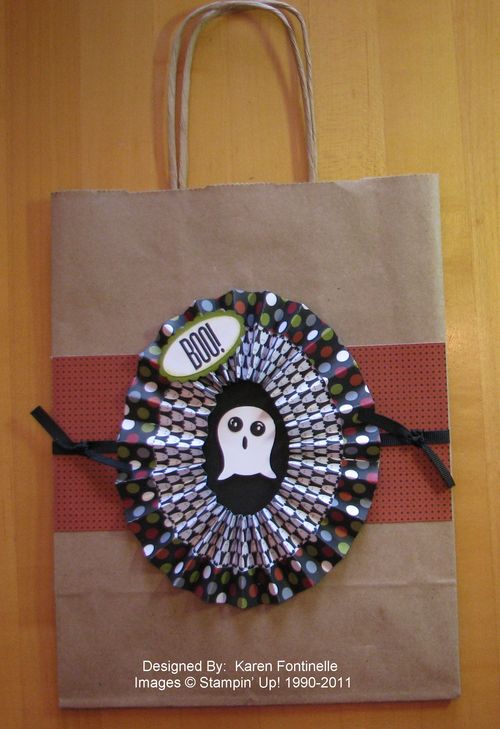 Here's how I made the Halloween gift bag.  It was a total accident!! My plan was to make one of those medallions or lollies out of Halloween paper, perhaps sticking it on a bag.  I wanted to try scoring the Halloween paper and folding up part of it to get a two-toned medallion. I was doing that and after glueing the two scored strips together and flattening it, trying to push it together in the center, I got this oval shape and thought why not do something with that?!
Here is the scored Frightful Sight Designer Series Paper #122351. I made two strips, each 12" x 2 1/2" and scored at every 1/2". ( I should have cut ONE strip 12" x 5" and cut in half later!) Then I turned the paper in my Simply Scored #122334 and scored at 3/4" to get the edge I would fold over. Love the Simply Scored!!!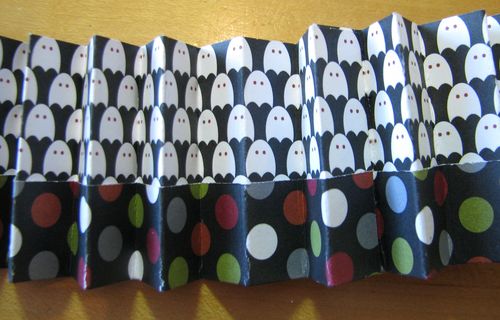 After I got the two strips glued together and played around with the shape I wanted, I turned it over and used Sticky Strip #104294 to hold it in shape on the back side.  The scissors is just holding it down in place. It is not glued to the bag yet, I'm just fitting it around the ghost to get the proper shape.  The ghost I made with the Owl Punch #118074….punch out the owl, cut off its feet and turn it upside down! Make his face with punched pieces or draw them in.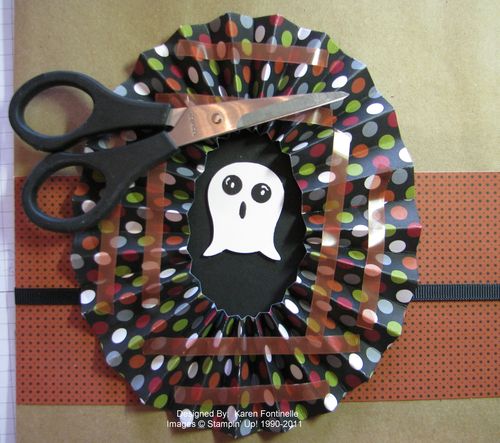 Take off all the Sticky Strip red covering and stick to the bag centering the ghost, which is already glued down on a black piece of card stock.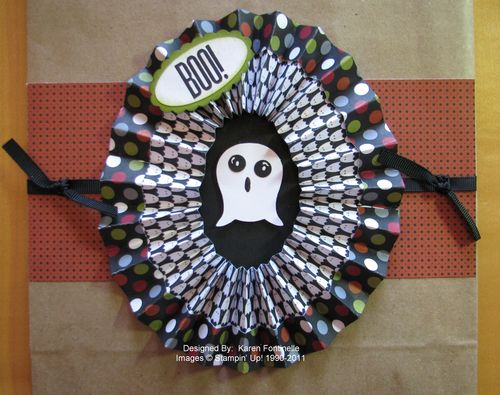 There's still plenty of time to order paper and stamping supplies for Halloween projects!  Just go to my website at www.karenfontinelle.stampinup.net and click the "Shop Now" button!