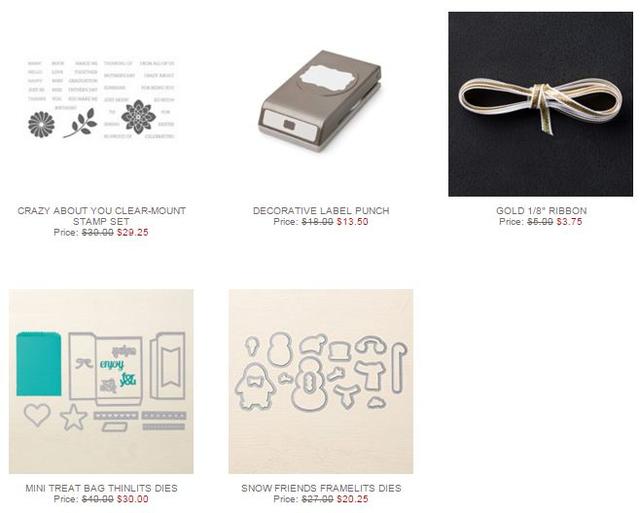 How exciting to see one of my favorite products on these Weekly Deals! Can you guess what it is??  It's the Mini Treat Bag Thinlits Dies! I love making the mini treat bags, but they're not just "treat bags"!  You can use them as cards or gift card holders or vary the size and shape, whatever your creative mind comes up with! Plus you get all kinds of extra dies to use not just with these bags but any time (I need to remember that!!). Save $10 this week if you want to purchase these fun dies!
The Decorative Label Punch has always been a favorite so if it's not in your collection already, you might want to put it on your order. The Gold 1/8″ Ribbon is one I have used a LOT!  Being so thin you can add it as a smaller accent and of course the metallic gold color really adds an oomph to your project!
Stampin' Up! Weekly Deals and Clearance Rack items all count toward Sale-A-Bration, the popular Stampin' Up! promotion where you choose a free product from the Sale-A-Bration Brochure for every $50 you spend with Stampin' Up! Remember, products on pages 16 – 19 are available only through February 15! After that there will be some NEW items available through the rest of Sale-A-Bration, while supplies last!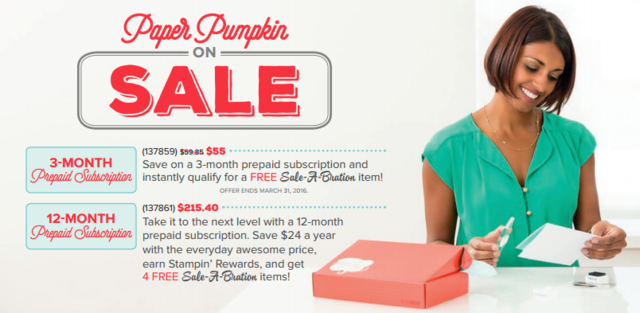 And one more DEAL to think about!!  If you love crafting, but want to keep it simple or don't have many supplies, or like a surprise, or even if you have an overflowing craft room, don't forget about the Prepaid 3-Month Paper Pumpkin Subscription.  Save $5 during Sale-A-Bration and you will qualify for a free Sale-A-Bration product! Put the subscription on your regular Stampin' Up! order and choose your free Sale-A-Bration product from the brochure. (I suggest ordering other things along with the subscription because you will pay minimum shipping for the SAB item even though the item is free.) Once you are a subscriber, you can order any past kits or refills that are still available. If you order by February 10th, you will receive the February Kit that goes out mid-February! This is also good to add to your order and perhaps reach Hostess Benefits! Stampin' Up! will email me you a code and tell you how to activate your account!  Let me know if you have any questions!