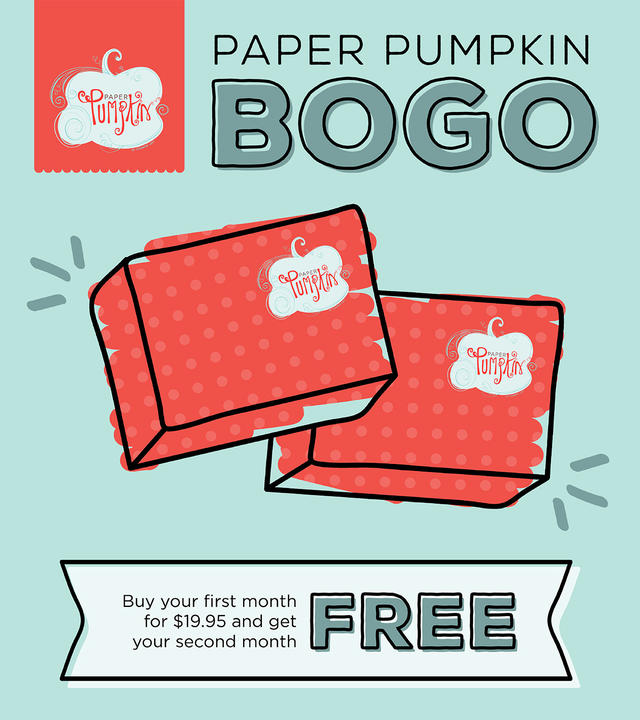 BOGO ALERT! For the FIRST time ever, FIRST-time Paper Pumpkin subscribers can buy their FIRST month and get their second month completely FREE!
Paper Pumpkin is the Stampin' Up! papercrafting kit that comes in the mail once a month containing everything you need to start crafting without gathering supplies, designing a project, etc. You don't have to think about it!  Just open the box! In every Paper Pumpkin kit you receive an exclusive stamp set, an ink spot, and all the materials you need for the project, cut and ready to go! Follow the directions or do your own thing.  Watch a video if you like.
Offer Dates:

August 11–October 10, 2016
Offer Details: Use promo code "BOGO" at PaperPumpkin.com.  You'll pay the regular price of $19.95 and get your second month for FREE! If you subscribe with the promo code between now and September 10, you will pay full price for the September kit and get the October kit free. If you subscribe between September 11 and October 10, your first kit will be the October kit and you will get the November kit free.
The Fine Print:
IMPORTANT:

Offer invalid if subscription is suspended or cancelled during the first two months. In other words, subscribers cannot cancel or suspend their subscription during their first two months—if they do, the offer is void. You can't put your subscription on hold or cancel until after the first two full months.
After the first two months, the subscription will continue for $19.95 USD + tax per month (shipping included) unless cancelled or suspended. Ends October 10, 2016.
This offer is open to first-time subscribers only.
Not valid on prepaid subscriptions.
Ends October 10, 2016 (the last day to subscribe and get the October kit).
Use Promo Code:  BOGO