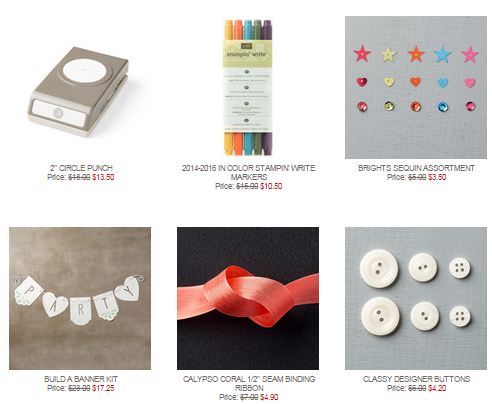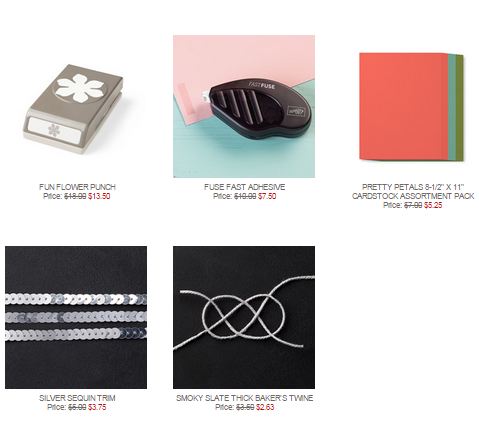 Check out these new Stampin' Up! Weekly Deals for June 30, 2015 through Monday, July 6. Click on the photos to see the page in my Online Store.  I see several products I want! For sure you want the 2″ Circle Punch to fit in with some others you might have. If you don't have the new In Color ink pads yet, get the In Color Markers and you can "marker up" your stamps if you want to use a new In Color. Sequins, ribbon, button and twine – always good for embellishing!  Sometimes it is the little bit of embellishment that makes the card. The Fast Fuse Adhesive, I admit is a little tricky to use, but now that I have the hang of it, I LOVE it. Very good adhesive. Sometimes I have to advance the tape myself a little bit in the dispenser, but otherwise it works great. (Not on the Weekly Deals, but I also love the new Tear & Tape Adhesive.  You should put that on your next order for sure!)

Also check out the Stampin' Up! Clearance Rack.  There are new items on the Clearance Rack, while supplies last. Not quite what I was expecting and I don't know what they did with the previous stuff, but there you have it. Check it out!
***Apparently Stampin' Up! is working on some corrections to the Clearance Rack right now!  We'll see! Check back a little later on.