Stampin' Up! has just previewed a new "Sock Monkey" stamp set which will be in the new Fall-Winter 2008 Idea Book & Catalog. Only demonstrators have been allowed to order it, but the reaction has been fascinating! Most seem to LOVE sock monkeys and are very excited that Stampin' Up! is up with the current trend. Some do not care for sock monkeys at all, placing them in the same category as scary clowns! Those of us who are old enough to have antique sock monkeys probably didn't even know they were the latest and greatest thing! You will be able to order Sock Monkey beginning August 11.
As soon as I saw the Sock Monkey stamp set it took me right back to my childhood because I knew I had a sock monkey. I'm pretty sure my brother did, too. While I don't have any particular memories of playing with it or it being a favorite thing, that sock monkey is indeed a strong childhood memory. We called it a "Munga-Munga" and to this day that is what it "really" is! Just one of those things that never got thrown out or given away or lost. In fact, I was pretty sure it was in my closet somewhere.
I finally was compelled to actually go look for my old sock monkey the other day when other Stampin' Up! demonstrators online on SUDSOL (if you are a SU demo you should subscribe!) were again discussing sock monkeys and the new stamp set. Amazingly, there it was, sitting on top of a shelf way in the back of my closet! If I can find my baby book, perhaps I can find out where I got it or who made it, if my mother wrote it down. But it is quite old (unfortunately!!) and I knew I had to make a card and display it with my sock monkey!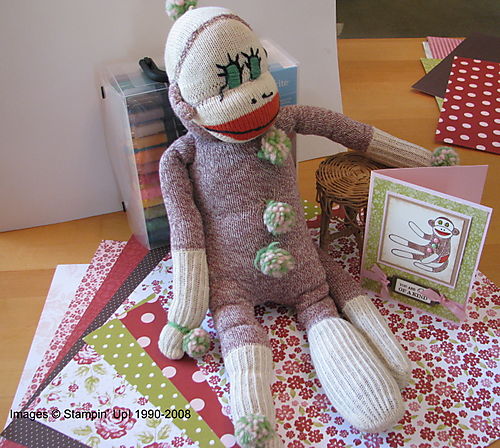 Since I was trying to make the card match my real sock monkey I took a few liberties with coloring the eyes larger to match and putting the black line across the mouth. I added the pink and green brads to look like the pink and green pom poms on my monkey. I colored in the monkey with my aquapainter, just drawing cross-hatching lines with in on Very Vanilla cardstock to kind of get the multi-color look of the sock. I used the new In Color, Pirouette Pink, for the card base and a piece of the new Bella Rose Designer Series Paper for the layer. You can see the other beautiful patterns of the Bella Rose paper where the monkey is sitting! And the saying on the card is from the stamp set "One of A Kind" in the current catalog, which was already sitting on the table and just jumped out at me as I tried to finish up this card. I decided to use a piece of my Antique Brass Hodgepodge Hardware on the card as well (we've got to USE our stuff, not just hoard it!…as painful as it may be! But see, it looks better on the card than sitting in the box not being used!)
Here is the card alone: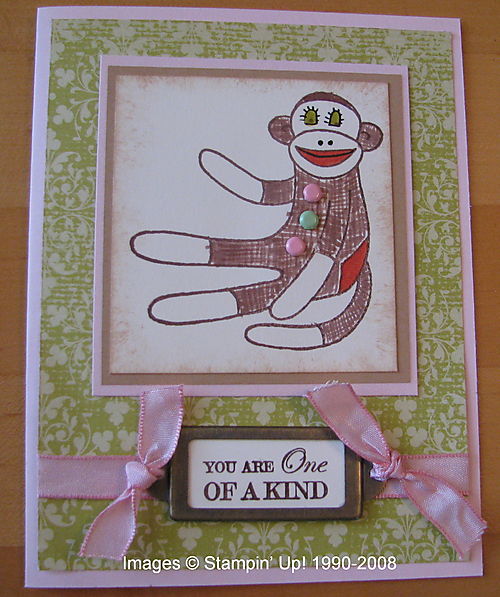 Leave a comment on my blog if you have a sock monkey or can't wait to stamp some!