Have you ever had one of those stamping days??!  I'm having one today. Every idea I had for this card, I discovered I either did not own the product I was planning to use or I couldn't find it!  We've moved things around for the Christmas tree and lots of my stamping stuff got moved.
So I decided to just stamp with Snow Much Fun #122562 with Stazon ink and color in with #120962.  When I started stamping, Stampin' Pastels were the thing to have because in one box you had all the colors to use.  I think we have gotten away from pastels a little bit with other wonderful products, but I decided to use them today.  Just touch your Blender Pen to a corner of the pastel and pick up the color, then color as normal.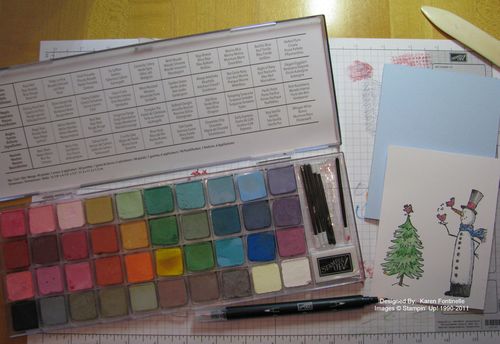 So after coloring in the snowman and Christmas tree beautifully with Stampin' Pastels, THIS happened!  You really shouldn't drop your stamp on top of the card you are working on!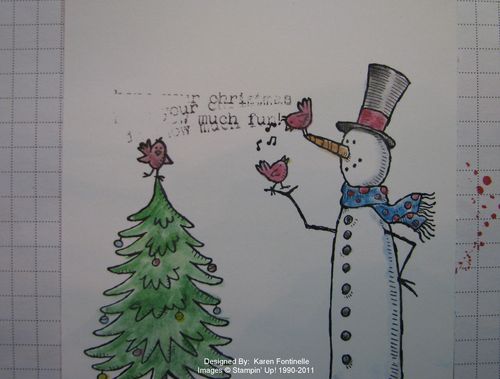 But since "there are no mistakes in stamping!" (really?!) I had to make good on that statement!  I stamped the images again on a new piece of Whisper White and then I cut out the tree and the snowman from this ruined piece!  I mounted them with Stampin' Dimensionals right over the stamped images on the new piece and I LOVED how it looked! I didn't cut out the snowman's one arm nor the birds so that made it easier.
I also used a small narrow clear block to stamp over the greeting to highlight that.
And I added Tombow Multipurpose Glue to the bottom of the card to adhere Mica Flakes #124115.  I should have stopped there, but oh no….needed a few snowflakes!  So I think the snowman is in a blizzard….but that's okay because it IS December!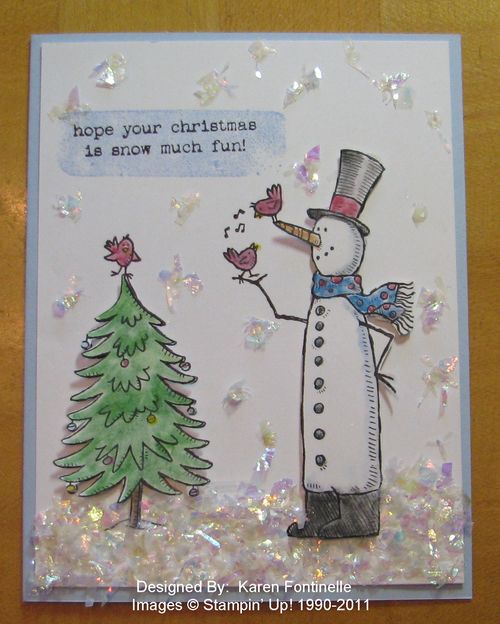 A bit overdone…..but that's okay!   Somebody might love it this way! It's still fun!  And was fun to make in spite of myself!