Stampin' Up! has just announced that for a limited time, we will be able to buy the new colors in Stampin' Write markers individually OR in the New Color Kit. Some of us already own most of the colors in the kit, so this will enable us to buy just the markers we need rather than have duplicates.  Check your Stampin' Write Marker collection and see what your needs are. Please note that the New Color Kit does include a new insert for the Many Marvelous Marker case, if you happen to own that.  However, once Stampin' Up! fixes a glitch, you will be able to print that insert with the new color families yourself if you would like.
"In the 2013-2014 annual catalog, we offer the Stampin' Write Marker New Color Kit (item 130034, page 163) to help you update your Many Marvelous Marker pack. Now, we've sweetened the deal. For a limited time, from June 26 until October 31, you can buy any of the new colors in the pack or on their own! Go ahead, fill in the missing pieces in your collection or buy the whole lot."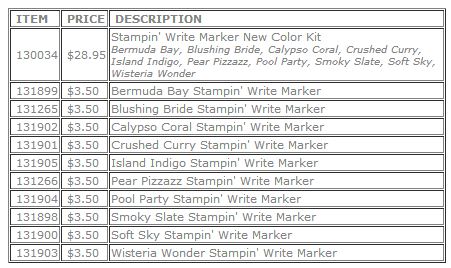 Remember, Smoky Slate is the one totally brand new color that no one owns for sure!  Also, the New Color Kit does not include the new In Colors.
Add your markers on to your regular Stampin' Up! order!  You can order online at the Stampin' Up! Online Store HERE if you like or contact me if you would like me to put it in for you. Keep in mind Clearance Rack items can only be ordered on an Online Order since availability can change at any moment.