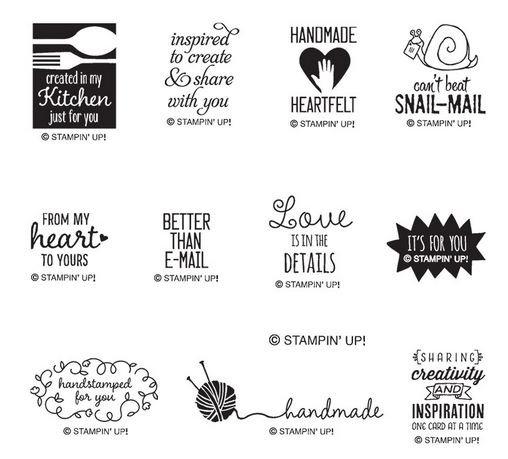 Stampin' Up!'s newest photopolymer stamp offering is this set, Better Than Email, which you might think is only for Demonstrators, but it is not. The main purpose of the stamp set is to provide new images for ANYONE selling items with a Stampin' Up! copyrighted image on them. Each item must be stamped with the Stampin' Up! copyright.  This is known as the Angel Policy. From Stampin' Up! "Stampin' Up!'s images are copyrighted, which means that they cannot be copied without permission. To help protect that copyright, all items for sale using our images must be marked with an official Stampin' Up! Limited License stamp set."  If you need more information about this policy, please let me know.
Even if you are not SELLING items you have stamped, wouldn't any of these stamps be fun to stamp on the back of your card (like the BIG cardmaker?) or your project to let people know YOU made it yourself?! I'm still mostly using my original stamps for the Angel Policy or just for my own personal use (when I remember) to stamp on the back of cards and maybe put my initials or name and date. But this stamp set has great creative images so I think it will be very fun to use! If you want these just for personal use and really don't want or need the brand name and copyright on it, you can cut those words off. (If you can stand to alter a stamp!) Or use a marker and only ink up the portions you want. I think stamping something like these images on the back of your cards really adds a professional and personal touch!
This stamp set is a direct result of feedback from demonstrators and customers wanting more images for the copyright and Stampin' Up! listening and challenging department members to come up with fun and versatile ideas that would appeal to demonstrators and customers. I know it is going on my next order!
Here are some ways to use these stamps!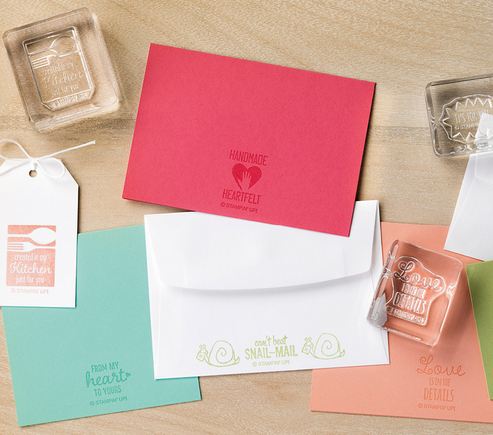 You can purchase this stamp set Better Than Email #140463 at my Stampin' Up! Online Store! You'll find it under "New Arrivals".