I've been absent from posting for a few days because I have been busy shopping for shoes for the wedding…mainly so that I can go get my dress hemmed, if necessary.  It's not an easy task and one I have always hated. Even though I might like new shoes just fine, my foot is a lousy fit.  It's rare that I try on a pair of shoes and think, "Wow! These feel great!"  And now, to be shopping for dress shoes, especially FANCY dress shoes, well, it has just been miserable!!
So in honor of the endless shoe shopping, here is  a card with shoes on it!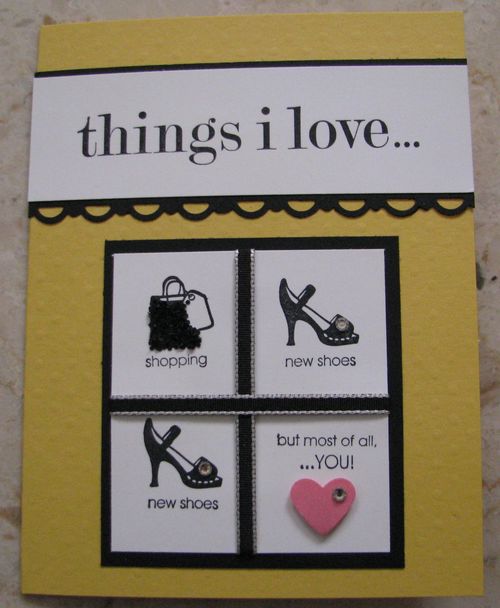 This stamp set, Things I Love, was one we received a year ago at the Stampin' Up! Convention.  There is also a stamp of a piece of chocolate in the set, but I didn't think a black piece of chocolate would look that good…even though I probably love chocolate more than I love shoes!  
The lighting isn't very good, but there is some bling on this card!  I added some black glitter to the shopping bag with Tombow Multipurpose Glue (just push the teeny sprinkles back in to the image with your fingernail to make sharper edges) and the shoes each have a Rhinestone on them as well as the heart.  And it is so fun to punch out a little heart with the Small Heart Punch!
Here are some of the supplies I used:
Stamps:  Things I Love #115229
Paper:  Daffodil Delight, Whisper White, Basic Black, Regal Rose
Ink:  Black Stazon
Accessories:  Small Heart Punch #117193, Backgrounds 1 Texturz Plates #114512, Scallop Trim Border Punch #118402, Black Chunky Essentials Glitter #108797, 1/8" Black Taffeta Ribbon #119261, Basic Rhinestones #119246
Yes, I did buy a pair of silver shoes that look lovely and hopefully I can wear them long enough to get through the ceremony and get photos taken….now if I can just convince my feet of that!