Exciting news!!  The Shimmer Paint in the current Holiday Mini Catalog has been so popular that even though the Holiday Mini ends on January 4, 2010 the Shimmer Paint will still be available as a write-in after that!
| | | |
| --- | --- | --- |
|  116806 |  Champagne Mist Shimmer Paint |  $5.95 |
|  116854 |  Frost White Shimmer Paint |  $5.95 |
|  116807 |  Platinum Shimmer Paint |  $5.95 |
If you haven't already tried the new Shimmer Paint you will want to in the New Year!  There are lots of ways to use it and a little goes a long way!
Here's an easy card I made stamping the snowflakes in the background with the Shimmer Paint.  They're very light and yet they add some beautiful interest to the card.  I think they show up pretty well in this photo for you to see!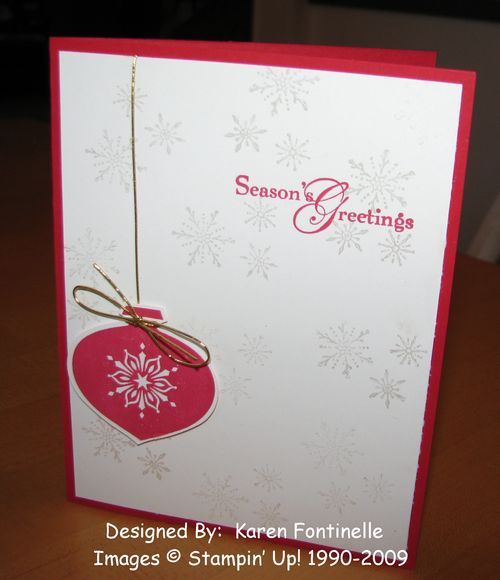 Just use your sponge dauber to apply the Shimmer Paint lightly directly to your stamp!