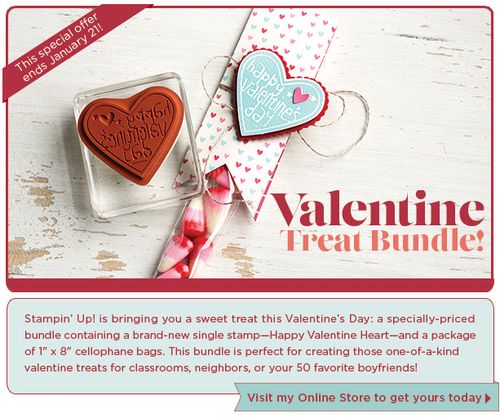 Shelli Gardner is the Cofounder and CEO of Stampin' Up!, for those who aren't familiar with Stampin' Up! She sometimes appears on local TV stations and shares some stamping projects.  It's always fun to watch Shelli on TV because while she claims to be nervous sometimes beforehand, she always does a marvelous job.
On Friday, January 4th she appeared on a local morning TV show, "Good Things Utah". She presented projects made with the two Valentine bundles, available right now until January 21st. As she points out, they are easy for anyone to make, very reasonably priced, and the one set can be used for any occasion, not just Valentine's Day.
I don't seem to be able to embed the link to the video so I will just put the link to Shelli's TV appearance on "Good Things Utah" last week if you would like to watch it!
http://www.abc4.com/content/about_4/gtu/featured_on/story/Stampin-Up/HTED4tTp30WdOolglVou-Q.cspx
And here are the stamp set bundles she is referring to: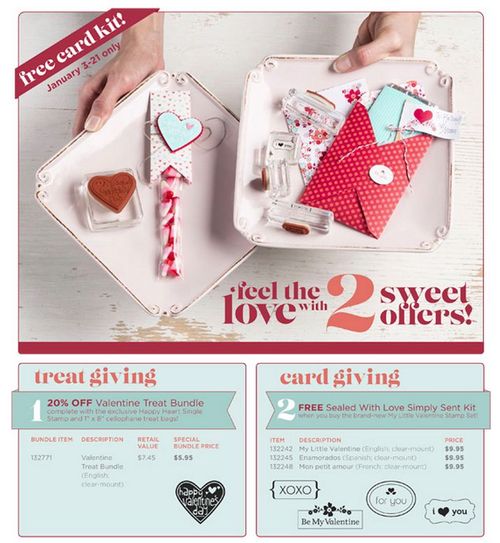 You can order yours today, along with any other Stampin' Up! products you like, including from the new Spring Catalog or the Clearance Rack. Just go HERE to my Stampin' Up! Online Store and place your order!
If you would like to see close-ups of Shelli's projects she displayed on the show, just go to her blog HERE.