The kids are back to school here in Houston and many other places around the country.  I was reminded of a journal I made for each of my children during their senior year of high school.  Just get yourself any notebook…..I used these Composition notebooks that you can pick up on sale now….and every night write an entry about your senior's day.  It is supposed to be positive.  The more often you write in it, the more valuable it will be to them in the future.  It's very easy to do if you put it beside your bed or wherever a good spot for you is to see it and remind yourself to do it!  My kids did seem to show at least a smidge of appreciation for it when I gave it to them as one of their graduation gifts, but what I really intend is that someday when they are middle-aged adults they will come across this notebook and have some fun reading what went on in their life when they were 17-18.
Just start with a plain notebook like this: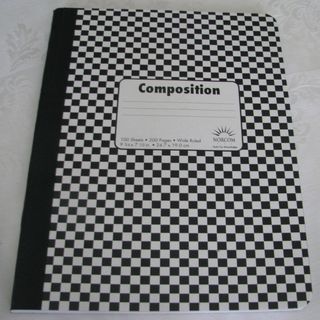 And when it is time for graduation, just decorate the cover with cardstock and stamping…..that's why I like this composition notebook because it is easy to decorate.  
Here is the one I made for my son back in 2007.  You can decorate with school colors or whatever you like.